Whether you're wondering how to start a trucking company or you're ready to roll your operation into high gear, a trucking company business plan is essential to your success. Taking the time to write one can help you accelerate your company's growth.
A Trucking Company Business Plan Is Key
A business plan is like a road map — it can help you get to where you want to go. It helps you make decisions by charting out your strategy for operations. Referring back to it when you're facing a challenge or taking a new step can help you stick to your goals and objectives.
You'll also need a business plan to apply for funding to buy assets or improve your cash flow. Banks and investors will want to see that you have a plan to grow your business, and having a well-written document demonstrates your professionalism and dedication to success.
What to Include in Your Business Plan
Business plans are living documents. Yours should chart where you are right now as well as your vision of where you want to be three to five years down the road, and you can update it as your business grows and changes.
You can create yours using a template; the U.S. Small Business Administration offers a few that could be helpful. A traditional business plan usually includes nine sections.
1. Executive Summary
The executive summary is a general overview that highlights the main points of your trucking company business plan. It should include your mission statement and information about your location, services, management team, and staff, as well as anything that makes your company unique (for example, if you specialize in long-distance moves or handle a specific type of freight). Though this section comes first in the business plan, it's a good idea to write it last and summarize the sections that follow into an overview for potential lenders or investors.
2. Company Description
The company description section is where you dive into the details of your operation. Be specific. Share the history of your company, when it was launched, the states you're registered and licensed in, and how many trucks you own or lease. Include information or plans about your offices, storage, and parking locations. Be sure to promote your competitive advantages, too — if you've recently expanded your fleet or signed a long-term contract, write about it.
3. Market Analysis
If you plan to apply for a small business loan or equipment financing, the market analysis section is extremely important. It's where you demonstrate your awareness of the industry and how you're uniquely positioned to serve your customers.
Identify your target market. It can be tempting to serve a broad market, but companies that specialize can better capture a specific market segment and become more successful. Estimate how much market share you expect to gain, and explain how you'll get there.
Provide data on the size of the market and the outlook — including industry growth projections — for trucking services in your area. Include information on how demand is currently being met, too. Address your competition in this section, as well. List the other trucking companies that operate in your market. Highlight their strengths and weaknesses, then explain how you plan to position your company to compete.
4. Organization and Management
This part of your business plan includes information on how you'll structure your trucking company, such as whether it's structured as a sole proprietorship, a partnership, an LLC or a corporation. Provide brief bios for your management team, and highlight their particular strengths, such as their driving experience or their expertise in a niche. Include information about your office staff and driver team, including their experience, licenses and credentials. And share how you'll handle recruiting, licensing and safety regulations.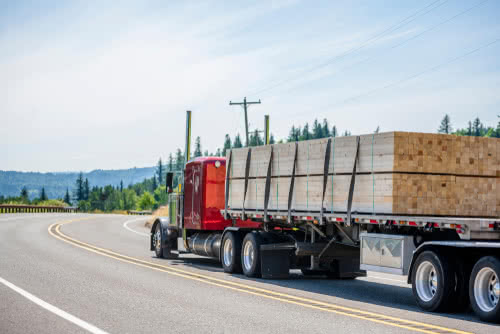 5. Products and Services
This section outlines the types of services your trucking company will provide and the industries you'll serve. For example, you might specialize in local residential moves, refrigerated freight or flatbed loads. Include details, too, about pricing plans and any discounts you provide. Then break down the numbers and share your gross margins.
6. Marketing and Sales
This section's goal is to explain how you'll market and sell your services. Your marketing strategy should detail how you'll communicate your services to your target market and grow your customer base. Include specific activities; if you advertise on trade association sites or if you've joined trade associations to network with companies that might need your services, mention that. If you serve residential moving needs, consider taking out ads in local home magazines or marketing your services to local real estate agents with referral programs. Provide details about your marketing budget, too.
Your sales strategy will include details about your sales force. Describe how you'll build a sales team, how many agents you need and how they'll be compensated. Explain how your sales team will identify and contact prospects. If you have any information about current close rates or any lead-generation tactics, include that, too.
7. Funding
If you plan to apply for a small business loan or equipment financing, the funding section is very important. Explain how much money you need and how you will use it. For example, you might need a new truck or to upgrade your facilities to offer new services, such as storage. Or you might need a loan to invest in marketing or to cover salaries. Provide details, too, on your expected return on investment and how you plan on repaying the loan or lease.
8. Financial Projections
Your trucking company business plan should also include a financial projections section that provides context around your current and past revenue levels, an outline of your average expenses and disclosures of any current debts. It should also forecast income based on expected growth, and these projections should be backed up with data.
9. Supporting Documents
End with an appendix of documents that support your plan. Business owners typically include copies of their tax returns, credit reports, licenses, contracts, lease agreements, mortgage statements and resumes. This section is optional, but any lenders or investors that review your plan might request them, so it's best to include them.
Putting Your Plan Into Drive
A trucking company business plan is where the rubber meets the road. When you take the time to write a well-crafted document, you end up with an important tool that can help your company succeed over the long haul. Review it every month — or at least every quarter — to make sure you're keeping your eyes on the road, and update it as your goals and needs change. Once you've built a plan for how to start a trucking company, all you have to do is follow where the road leads you.