Referrals are a critical part of your business's success, but asking happy clients for referrals can get put on the back burner when the day-to-day responsibilities of business ownership take over. In the wake of the COVID-19 crisis, attracting quality clients has become even more crucial, as businesses struggle to maintain volume and cash flow. Now is the perfect time to assess your processes and make cultivating referrals a regular part of your marketing strategy by implementing a system that practically runs itself.
Here's a four-step guide to launching a business referral program.
1. Assess Your Current Referral Funnel
Your first step in building a business referral program should be to assess how much of your current business comes from referrals. Knowing what attracts the customers you already have is a powerful small business marketing tool.
A SCORE report shows that most business owners surveyed are enjoying some success on this front. Business owners said that 61% of their customers make one referral, 34% make two to 10 referrals, and 5% make 11 or more referrals.
What would your company's numbers look like? To take your business to the next level of generating leads through referrals, you need to know where it currently stands.
2. Find Effective Ways to Get Referrals
Fifty-two percent of SCORE survey respondents said most of their referrals came either from customers sharing brand content on social media or in response to email marketing campaigns. But the most frequent methods aren't the ones that generate the most sales. Reportedly, the most effective referral methods are word-of-mouth, lead forms and email, in that order.
Potential clients are still more likely to trust the word of a friend who raves over their landscaper, birthday-cake baker, car mechanic, etc., than a social media post. In fact, surveyed business owners said 32% of their verbal referrals resulted in sales, versus only 1% from social media.
Your small business marketing plan needs a multipronged approach; one that recognizes the strengths and limitations of each referral marketing tactic, and uses knowledge of your customer base to determine the right method for the right time.
3. Create Referral Incentives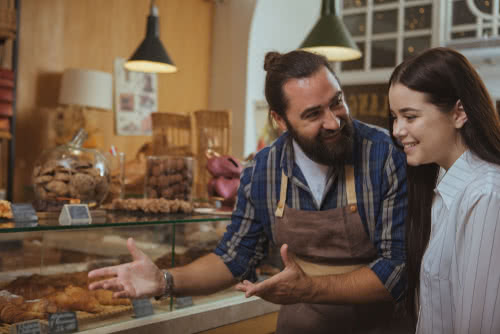 One way to encourage more referrals from your happy customers is to offer a tangible reward in appreciation. The possible perks can be as endless as your imagination, but what you offer will depend on what is most practical for your type of business. The most common method that business owners use is gift cards from their company to thank their volunteer business ambassadors. Some business owners choose to pay out referral rewards in the form of a check, while others offer bill credits and free merchandise.
You might also consider implementing a point system that lets customers win a big incentive prize after making several referrals, as suggested in Business2Community. For example, a gym owner might offer a free month's membership in exchange for a certain number of referrals, or a dental office might provide a free cleaning through a similar incentive program. Other ideas include pledging a donation to a local charity for each referral, social gifting — giving a perk to the friend who gets the referral — and double-sided incentives, when both the referred and the referrer get a benefit.
4. Track and Manage Your Referrals
To ride out the uncertainty that COVID-19 has brought, one of your best resources is your Rolodex of satisfied clients. Leveraging your database for qualified referrals is one of the smartest things you can do for business continuity through this difficult period.
Keeping track of your referrals and managing their contact information can be the difference between a hit-or-miss referral program and one that consistently brings in new paying customers. But adding another administrative responsibility may sound like a headache you'd rather avoid. An automated referral management system, which may be a standalone business referral software program or part of a customer relationship management program, can take a lot of work off your already busy hands. With these types of programs, you input your client contact information once, and it's automatically fed into every application needed to manage your referrals.
While one of the best things about referrals is how easy they are on your small business marketing budget, investing a bit of money to help you optimize your referral marketing strategy, or to hire a consultant to compile a client database and set up a referral program for you, can pay off. If you need help with financing, a business loan may be an option worth exploring.