COVID-19/coronavirus cleaning services are in demand at the tail end of 2020. Businesses, nonprofits, and organizations are searching for ways to reopen while minimizing the risk of transmitting COVID-19, and some homeowners are looking to thoroughly disinfect their homes.
If your cleaning business has been affected by the pandemic or if you're looking to diversify your revenue streams, offering COVID-19 cleaning services could help.
Here's what you'll need to keep in mind as you develop this service.
Follow the Latest Guidelines
Our understanding of COVID-19 is evolving; so is the guidance around cleaning and disinfecting to reduce exposure to the virus. One of the best ways to make sure that you are implementing the best cleaning practices is to keep current with the guidance from the Centers for Disease Control and Prevention. The CDC maintains an ongoing reference library stocked with guides for cleaning and disinfecting different types of facilities, areas, and surfaces. Its consolidated guidelines for reopening public spaces and workplaces are a valuable resource for any cleaning company services looking to offer coronavirus-specific services.
Individual states might have further guidance or additional requirements. Consult your state's health department for more information.
Use an EPA-Approved Cleaner
Not every cleaning product kills the coronavirus. And each works at its own speed — for example, some products might need to sit wet on a hard surface for several minutes to kill the virus.
The Environmental Protection Agency keeps a regularly updated list of cleansers that are effective against COVID-19. The EPA recommends certain products, but it advises users to always follow label instructions to ensure safety.
Provide PPE to Your Workers
You'll need to provide your workers with personal protective equipment to protect them from COVID-19 as they're working against it. Follow the CDC's or EPA's guidelines, and make sure that your staff is wearing face masks or shields and observing social distancing protocols. The Occupational Safety and Health Administration recommends that cleaning and janitorial staffs wear standard PPE, such as gloves and gowns. Local mandates may require specific types of masks, eye protection and other PPE needed.
Don't forget to provide hand-washing stations and hand sanitizer for staff and clients. And to keep workers and clients safe, make it clear to workers that they should stay home if they're feeling sick.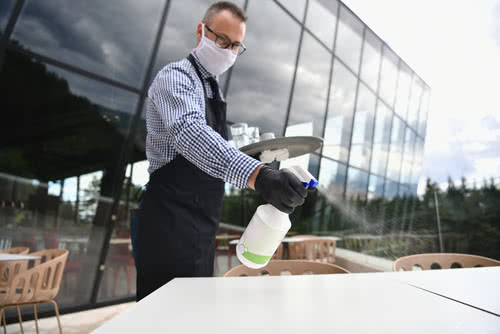 Train Staff on Safe Work Practices
OSHA guidance stresses safe work processes when offering COVID-19/Coronavirus cleaning services. It recommends avoiding cleaning practices that could reaerosolize any virus particles, like dry sweeping or high-pressure streams of water or chemical cleaning agents. Remind your staff to pay extra attention to frequently touched surfaces, such as doorknobs or light switches, and to ventilate spaces when cleaning by opening windows. Develop a checklist and train your team to help them maintain a safe work environment.
Stay Up to Date by Taking a Course
If you want to offer cutting-edge services and need more guidance, consider taking a class. CloroxPro has created several on-demand webinars and podcasts that can help. Organizations such as ISSA, the leading trade group for the cleaning industry, have specialized courses and certifications on basics and best practices of COVID-19 cleaning.
Invest in the Tools You Need
Launching a specialized COVID-19 cleaning service likely means an upfront investment — there are courses to take and PPE to purchase, and you'll likely want to advertise your new services to existing and potential customers. If you don't have the cash on hand, a small business loan for a cleaning services company could give you what you need.
Cleaning company services play an important part in helping economies reopen as the COVID-19 pandemic continues. Take time to get up to date on best practices and develop a plan for offering COVID-19 cleaning services. By implementing proper cleaning protocols, using the right products, and taking steps to keep your workers safe, you can make a positive contribution to society while improving your bottom line.