Mandating vaccines for employees is dominating daily headlines. CNBC recently reported that the number of open job listings mandating vaccines doubled in October. These reports have been paired with a highly-visible federal vaccine mandate that employers with more than 100 workers require vaccinations or weekly negative tests from onsite employees.
All of this leaves some small business owners grappling with what to do with their business regarding vaccines and their employees, both operationally and legally. So, here's what to take into account when considering whether to implement a small business vaccine mandate for your employees.
National, Regional and Local Mandates
It's important that small business owners are aware of the national, state and local regulations that can affect their operating decisions. Nationally, mandates are being challenged in courts, making it an evolving issue to keep up with. Meanwhile, states, counties and cities may have their own guidance on requiring workplace vaccines — so remain mindful of changes in your area.
When in doubt, it can be helpful to contact your local public health department. A business or employment attorney can also offer guidance specific to your location and circumstances.
Legal Implications
The U.S. Chamber of Commerce notes that it is legal to require in-person employees to be vaccinated, with considerations for qualifying medical conditions. However, there are very specific steps employers should take when it comes to testing, requesting information about employee health status and implementing a COVID-19 vaccine mandate. The Equal Employment Opportunity Commission provides an evolving resource that helps answer mandate-specific questions.
Updating or establishing a formal small business vaccine policy (as opposed to a stricter mandate) that reflects your company's stance on the issue — and can be uniformly implemented in spaces like kitchens, dining areas, or office and factory floors — is a smart first step.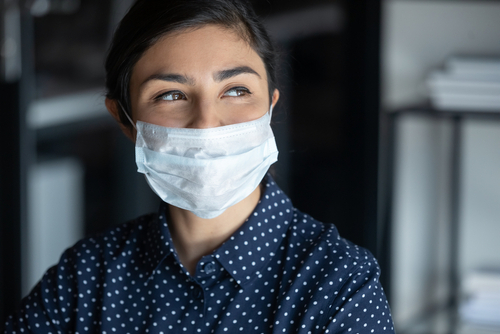 Employee Reactions
Vaccines can be a difficult topic to navigate. Some employees may be skeptical of vaccine efficacy and safety, while others may be uncomfortable working in spaces where they're exposed to unvaccinated coworkers. It's important to be prepared for a range of perspectives. When communicating with employees, consider:
Sharing the specific vaccine policy/mandate you're implementing, including deadlines for compliance and clear and concise guidance on what happens if someone doesn't comply (for example, termination or regular testing requirements at their own expense).
Framing the discussion as part of your larger COVID-19 safety initiatives, which might include masking, regular employee testing, social distancing or precautions such as plexiglass barriers.
Scheduling time off that allows employees to be vaccinated. For example, the federal mandate requires that companies with more than 100 employees offer up to 4 hours of time off to get vaccinated.
Discussing accommodations for time off to recover from vaccine side effects, including whether you'll provide extra days or simply support employees taking PTO or sick days.
Determining whether you'll offer any incentives for employees to get vaccinated. For example, one food producer offered a one-time $500 bonus to fully vaccinated employees.
Moving Forward With Care
While there is currently no national small business vaccine mandate, it's still important for owners to consider what's best for their business. Mandating vaccines for employees is a debate that small business owners should navigate with great care. From the legal considerations to the staffing ramifications, it's important to decide what's best for your business, team and customers.
Only then, can you craft a policy, employee communication plan and customer relations strategy that will effectively help your small business find its way forward through this phase of the pandemic.
Visit National Funding's blog for more tips on how to communicate with your employees during the COVID-19 pandemic.