Building your own practice takes more than excellent medical abilities and years of schooling. You also need a business plan for investing in growth while managing the cash crunch that can happen during those early years of building your patient list. Tapping into medical practice financing can be a way to quickly expand your practice without just relying on your patient billables. Lenders are glad to provide funds to healthcare providers because it's a stable business model with high potential earning power. Qualifying shouldn't be an issue, so the real decision is choosing the right type of loan for your goals.
In this guide, we review the types of medical practice loans available and how financing could help your organization. Throughout our guide, we'll use a hypothetical medical practitioner, Dr. Simmons, to explain the concepts. Dr. Simmons is entering his second year of owning his practice, and we'll look at how he could use loans to reach his goals.
Types of Medical Practice Financing
Before we look at the most common uses of loans for medical professionals, let's briefly review the different types of medical practice financing along with their pros and cons.
Traditional lenders – Traditional lenders can make sense for larger long-term loans, but not if you need money quickly. They often have a lengthy and difficult application process. It can take several months for them to review everything and you'll need to have a proven track record of income, a clear business plan, and possible collateral to back up the loan, including putting up your own personal assets.
If you have the qualifications and aren't in an immediate rush to get the money, these loans could be useful for larger needs, like buying another existing practice or building a new facility. But for newer medical practices with urgent cash needs, the traditional lender approval process can be too time-consuming.
Small Business Administration (SBA) loans – The SBA is a government agency that helps American businesses, including medical practices. One of their services is helping businesses get loans. While the SBA does not actually pay out any funds, they guarantee repayment of the loan so your practice has a better chance of qualifying than if you applied with a traditional lender.
Like loans from traditional lenders, SBA loans are a good option if you need a larger long-term loan, but not if you need money quickly. The SBA loan application process can take several weeks or months. They also want to see several years of income and collateral for the loan, so not every medical practice qualifies. Finally, the SBA charges an extra fee on top of the traditional loan interest rate so it's a little more expensive.
Alternative lenders – Alternative lenders are one more way to receive medical practice financing. These lenders specialize in smaller amounts of financing, between $5,000 to $500,000, and they process the application much more quickly, sometimes within 24 hours after you apply. The standards are less strict, so you may be able to qualify just by showing three months of bank statements, verifying the income for your practice.
They offer medical practice loans that can cover a variety of investments for business growth, like marketing costs, hiring more staff, expanding services or even covering taxes. Typically, you will secure the loan, and you're free to use the funds as working capital as you see fit. These loans may come with a higher interest rate than traditional loans. However, alternative lenders let you pay the money back as early as you want. With traditional and SBA loans, there is usually an early payment penalty, a fee for paying back ahead of schedule since you'd pay them less interest. As a result, these short-term loans can end up costing you less overall than if you locked in a long-term traditional loan.
Many of these lenders also offer medical equipment leasing. In this case, the lender buys the asset, or leases it from your preferred vendor, and then lets your practice use it for a set amount of time. It's like a long-term rental agreement. The monthly payments are often lower than if you used a loan to buy the equipment yourself, but at the end of the lease, you need to return the asset to the lender or vendor. Depending on your contract terms, you could purchase the medical equipment at the end of the lease.
All these options can play a role in your plan for medical practice financing. So let's see some real-life examples of what you could do with the extra cash.
7 Common Uses of Medical Practice Financing
1. Hire Staff
Without quality employees, you won't have a quality medical practice. When you're short-staffed, appointments get mixed up, claim paperwork gets delayed, and you can only bring on so many new patients.
When you have a lack of funds to hire the employees you need, it can force you to make staffing decisions that hurt your practice. For example, maybe you keep an underperforming employee because you don't have the resources to search for a replacement. Or maybe you rely on yourself and family members for jobs that should be given to a professional.
During those initial years, loans for medical professionals can get you fully staffed so your practice is operating the way it should. It will give you the money you need to hire someone until your claims grow enough to cover everything.
Dr. Simmons knows he could handle more patients if his practice added a PA, but has yet to do so. He is also handling the office management, with help from his spouse, but this is leading to issues like mixed-up appointments and slower payment of insurance claims. By borrowing through medical practice financing, he can hire both a PA and a professional office manager immediately. This way, he can also add patients without worrying about the extra admin work.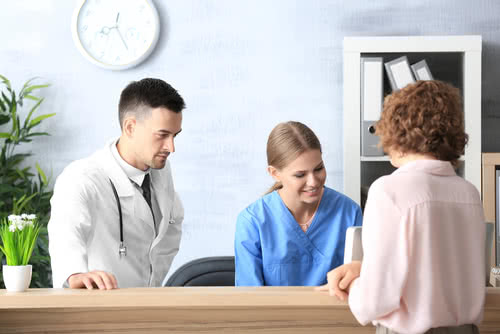 2. Lease Medical Equipment
As mentioned above, there is a specific type of medical practice financing for leasing medical equipment. This includes all the tools you need to perform your job like diagnostic equipment, surgical instruments, medical lasers and ultrasound systems. You could also use this type of financing to lease wheelchairs, beds and stretchers for your patients.
This type of financing is available for both new and used medical equipment. You can also use a medical practice loan to buy some of this equipment outright if you know the investment is worth it for you. Some lenders offer these loans or leases without requiring a down payment, so you can get the assets you need without putting any money down.
3. Expand Into Other Service Lines
Diversifying into other service lines would add another source of income for your practice and make it more appealing as patients can take care of more needs in one place. But setting up another service is a considerable investment. Not only will you need to cover the new equipment and staff, but you also may need to launch a marketing campaign to promote the new service line. Loans for medical professionals would allow you to fund these expansions.
Dr. Simmons believes adding a diagnostic lab would make sense for his practice, rather than constantly referring that work off-site. He takes out a short-term loan to run some market research, to confirm how much extra he could make with this new service. Once he decides it makes sense, he finances this investment with a combination of a traditional or SBA loan and medical equipment loans from an alternative lender.
4. Refurbish Your Practice
When patients see your office, it's their first impression of your skills as a medical provider. A run-down waiting room can cause patients to second-guess whether they are getting the best care, even if you deliver excellent service otherwise.
With loans for medical professionals, you can quickly make these improvements so your patients are put at ease. Alternative loans are best for simple renovations and upgrades, like buying new furniture and decorations. For larger projects like completely reconstructing your facility or buying a new building, a traditional lender or SBA loan could be better since the loan amount will be larger.
5. Manage Cash Flow While Waiting for Reimbursement
When running a practice, your cash flow is at the mercy of when insurers reimburse you for patient claims. Sometimes this can take longer than you'd like, depending on a patient's carrier. At the same time, some months your claims will be higher or lower than others.
But regardless of how much money comes in, you'll still need to pay for your office lease, staff, equipment loans and other expenses. If your reimbursements fall short, you can use short-term loans from an alternative lender to bridge the gap.
Alternative lenders usually approve these loans within a day, so you can quickly make up for a cash shortfall and not miss any bills. You can then pay off the loan as soon as you're able to, so you pay less interest. For this situation, traditional or SBA loans don't make sense because the application process takes too long.
6. Cover Taxes
Taxes for a new medical practice can be a little hard to predict. It's only gotten less clear since the government overhauled the tax code starting in 2018. While you and your accountant can try to estimate how much you'll owe based on your revenues and costs, sometimes you won't know your bill until you prepare your return — and it could be a nasty surprise.
If you do end up owing the IRS, medical practice financing can cover your business taxes so you pay on time, rather than risk IRS penalties. In this situation, a short-term loan from an alternative lender makes sense; by the time you qualify with a traditional lender, you may miss the tax deadline.
Dr. Simmons sees his practice double in size from the first year. While he withholds more money for taxes, he doesn't account for the higher tax bracket and ends up owing another $50,000 on top of his estimated payments. By tapping into a medical loan, he covers these taxes until his practice catches up with billings the next month.
7. Pay for Marketing
When you're running a medical practice, it's just like any other small business where you need to have a marketing strategy to attract new patients. This is most important during your early years before you've built up a steady patient list.
Using loans for medical professionals to finance marketing can speed up your practice growth instead of waiting to attract patients through referrals. Best of all, you can see an immediate return on your investment as you attract more business.
There are all kinds of ways to get the word out about your practice — whether it's developing your own website and social media page, running advertisements, sponsoring local events, or handing out branded gifts to patients like water bottles or magnets. Whatever method you choose, it likely will require some investment of time and money. Even running your website and social media is something you may want to outsource to a marketing professional, especially if you're too busy seeing patients to run it yourself.
Dr. Simmons wants to take his practice growth to the next level. He borrows $30,000 to hire a marketing agency, redo his website, and promote his practice at local events. He uses an alternative lender to cover the marketing costs for two reasons. First, the lender approves the loan quickly so he can invest in marketing right away. Second, the loan doesn't have an early payment penalty; as soon as his marketing starts to pay off, he can use the extra income to immediately repay his debt without a fee.
Closing Thoughts
Before signing up with any lender, make sure they have experience with the healthcare space. A lender with this knowledge understands what your practice could accomplish with the financing. They can then use their experience to match you with the right type of loans for medical professionals and help you figure out exactly how much you should borrow.
As you can see from this guide, you have all kinds of options for medical practice financing. A lack of funds should not hold back your growth. By taking advantage of these strategies, you can continue building your dream practice.