The COVID-19 pandemic prompted many owners to pivot their business models to offer virtual services. While the vaccine rollout is reducing many or all of the pandemic-related restrictions that states put in place, some customers have decided that they prefer virtual offerings.
And for good reason: Virtual services are often more convenient, affordable and accessible to a larger range of people. A busy mother of three no longer has to find child care, drive fifteen minutes, search for parking and navigate through a loud, bustling gym for an hour of yoga. She can simply roll her mat out in her living room and tune in.
With that powerful customer experience in mind, it makes sense why many businesses are continuing their virtual offerings — even as their doors reopen. Here are some of the virtual services that will likely stick around post-pandemic.
Telehealth and Teletherapy
Telehealth visits were available before COVID-19, but they weren't widely used. According to a survey by digital service provider Sykes, fewer than 20% of Americans were using health care virtual consultations of some sort as of March 2020.
A year later, that number rose to 61% as patients and health care providers sought out ways to provide safe, distanced care. It turns out that patients like the convenience of telehealth visits. The survey reported that nearly 88% of participants want to continue using telehealth for non-urgent consultations.
Online Takeout Orders
When restaurants were closed or operating under restricted seating, most pivoted to online ordering with curbside pickup or delivery. In most cases, it was a necessary pivot — for both business and customer! — as 53% of adults told QSR magazine that takeout or delivery is essential to the way they live.
So, if you added curbside pickup and delivery to your business, you may not want to phase it out. According to a study cited in Restaurant Business Magazine, 66% of diners expect to continue using curbside pickup even after dine-in services resume.
Streaming Workouts
Most states shuttered gyms during the pandemic, which led to a surge in home workout equipment sales. But it's hard to replace the guidance of a trainer. Personal fitness trainers started offering online classes through video platforms like Zoom, with one-on-one and group sessions that provided encouragement and connection from home.
Customers enjoyed the convenience of home workouts, and some aren't ready to return to the gym, causing the virtual fitness market to explode. Allied Market Research predicts an annual growth rate of 33% through 2027.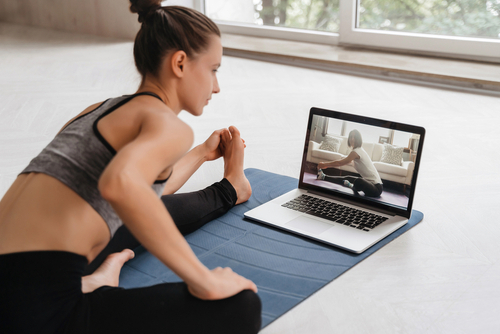 Video House Tours
Social distancing changed how real estate agents could show homes, with traditional methods like open houses becoming nearly impossible to conduct. While 3D video tours and virtual consultations aren't new, they became increasingly important during the pandemic.
While a video isn't superior to a live tour, it does provide more information than photos alone. Jerry Clum, the founder and CEO of Hommati, a company that offers cutting-edge technology services to real estate professionals, told Rocket Homes, "You have to use your imagination to link the images together to understand the flow of the space. A virtual tour allows the home buyer to explore each room completely with 360° movement."
Buyers can more easily eliminate homes based on a clear video, helping to reduce the number of showings for both buyers and sellers — saving time for everyone.
Planning Ahead
While not every virtual service is going to be superior to the in-person experience, many offer customers a convenience they're not ready to give up. Business owners would be smart to find a balance between digital and physical services by taking steps such as:
Ask your customers how they prefer to receive your services.
Pay attention to how much of your revenue is coming from each channel.
Brainstorm more ways to add virtual services to your core business model.
Look for hybrid opportunities, such as combining in-person offerings with livestream access.
Most importantly, continue to monitor your customers' preferences going forward. The best strategy is to meet your customers where they are today and be open to where they may be in the future.
Need funds to grow or pivot your business for success as the economy recovers? Check out National Funding's small business funding solutions or fill out our contact form to contact a representative.