A bar or restaurant business plan is a road map to follow as your business grows, helping you to operate by industry best practices and avoid financial or operational gaps.
If you've been in business for a while but haven't seen the success you expected, your business plan may need an update. Even if you started out with a strong business plan, things change. Revisit that plan every year or so to make sure it still fits with your current goals and situation.
A strong restaurant or bar business plan keeps you focused on the goals you set for yourself on day one. Plus, it's a crucial tool for securing funding. If you hope to attract investors, get approved for a business or equipment loan, or lease restaurant equipment, a solid business plan can give those investors or lenders a clear idea of how you operate and your plans for growth.
Restaurant Concept
Every business needs a business plan, but it should be catered to your specific industry. For instance, one of the first items you should include in your restaurant business plan is a description of your restaurant concept, according to OpenTable. There are thousands of restaurants, but yours should have its own specific feel. Your business plan should clearly explain what's unique about your restaurant. Provide all the details about the food and drinks you'll be serving, explain what inspired your concept, and describe the style of service that patrons can expect.
If your business is all about preparing and serving food and drinks, your business plan should include a sample menu. You can simply include your current menu, but if you want to add new or seasonal items, even if they're still in development, describe them in your business plan. Include the names of your potential new menu items and a brief description of what you expect them to include. This will help paint a complete picture of your restaurant's offerings for those who read your plan.
Describe the type of service your restaurant provides. Maybe you offer counter service with a streamlined restaurant POS, or perhaps you employ waitstaff to take orders and serve food. Whatever your service plan, explain what it looks like and why it works best for your particular establishment.
Because the tables, chairs and decor can play an important role in the atmosphere of a restaurant or bar, also include information about the design of your business location. How does your design help contribute to the feel of your restaurant's overall concept? How do you plan to continue refining that design?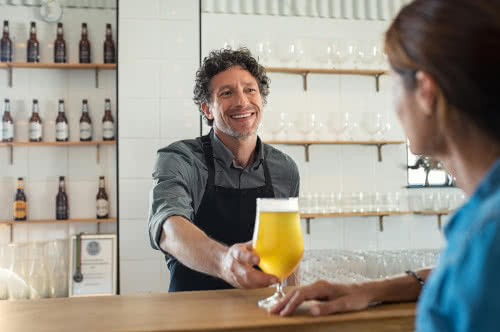 Business Structure
This section of the plan should describe the organizational structure of your business, such as a partnership or corporation. Make sure you also explain why you chose this structure.
Management Team
The success of most small businesses depends on who is running them. In this section, explain your background and expertise. Then introduce other members of your management team, explaining the skills and capabilities they bring to the venture.
Target Diners or Patrons
Most restaurants are local affairs, so the market you serve is dependent on your location, but think beyond that. Describe your ideal customers, who they are, where they work, how much money they make, and why your establishment is attractive to them.
Market Research
Conduct research about your industry to make sure your business plan is realistic. For instance, profit margins are slim in the restaurant business, with an average profit margin of just 6.2%. Make sure you're basing your projected income and spending on realistic figures rather than overestimating potential earnings.
Location and Local Market Overview
As a restaurant or bar, your location is crucial to your success. This section should describe the general area where you are located and include the area's daily traffic levels, as well as information about nearby businesses and residential areas. For instance, if your restaurant is near apartment or office buildings, it's likely going to be busy during lunch, dinner and after-hours drinks.
In addition to information about your immediate location, also include details about your neighborhood, town or city. These details can help you determine the niche your business can serve. If you live in an area saturated with restaurants, for example, you may need to look for ways to differentiate your business. If your neighborhood has plenty of dining establishments serving lunch and dinner but few offering breakfast, you may want to open earlier a few days a week to capitalize on that need.
Marketing Plan
This part of the business plan should provide detailed information about how you plan to market your business. Include your plans for using social media, sponsoring local events, offering coupons, email newsletters, and radio or TV advertising.
Outside Service Providers
Here, include the outside professionals who help keep your business running successfully. That may include an accountant, attorney, banker, public relations professional, menu designer and others.
Growth Plan
Every business needs a plan for continued growth. Even if your restaurant is doing well now, determine what you're going to do to sustain that growth. Do you want to add another location eventually? Do you plan to expand your menu? Add more tables? Hire more staff? Develop your plans for growth and put them in writing to keep you focused.
Financial Statements
Get help from your accountant to complete this portion of your business plan. It should include your profit and loss statement and your capital equipment budget. To plan ahead effectively, you'll need to be able to explain how many people you expect to serve on a daily basis and the amount of the average check. You can also include how you plan to cover daily operations, whether you'll plan to work with a lender, use your own savings or work with an investor.
Thinking through all the various components of your business doesn't just help you write an effective restaurant or bar business plan. It also ensures that you have clear objectives and prepares you to move forward for greater success.