If you're performing double duty as the strategic leader and marketing expert in charge of your company's growth, rest assured that email marketing is worth your time. According to HubSpot, the return on investment for email marketing is $38 dollars for every dollar invested. Email marketing helps you build stronger relationships with your customers, and it's an effective way to share thought leadership, promote sales and stay connected. Finding the best email marketing software for small business outreach will help you engage your customers in a new way. Here's a closer look at four features of email marketing tools that should be on your list.
Templates for Easy Newsletter Creation
A busy small business owner doesn't have time to code a newsletter by hand. The right email marketing provider will offer a range of tools that make it simple to send professional, engaging newsletters. When Jim, a bookstore owner, decided to launch a newsletter, he needed something as easy as possible. He's busy and not very tech savvy, so intuitive software was his top priority.
You'll be able to choose between preexisting newsletter templates or custom templates that you can align with your branding. Adjust colors, add your logo, and customize the newsletter to build your brand. Using a template will make the process of creating a newsletter as simple as adding a subject line, text, any images or links you want to include, and then previewing the final product before you hit send.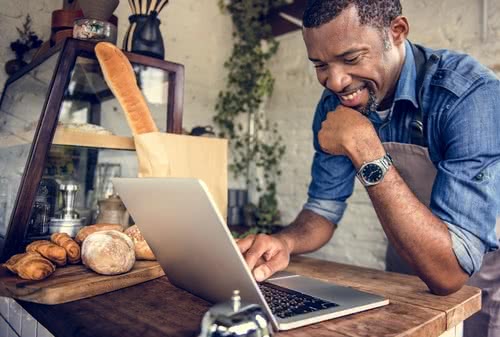 Contact Management for Organization and Compliance
The best email marketing software for small businesses include features that make it easier to manage your contacts. When someone signs up for your newsletter, email marketing tools will capture that email address for you. Ideally, they'll use what's called a "double opt-in" to make sure that you have the person's permission to email them. With many strict data privacy regulations emerging, the best solutions ensure you comply.
Jim does business with online book buyers in other countries, and he needed a software solution that simplified the compliance process. He also looked for two other contact management features. The first was the ability to segment his list by reading interests so he could better target his newsletters. The second was the ability to see when people weren't engaging so he could remove those email addresses to keep his newsletter current.
Survey Features for Customer Feedback
Have you ever wished that you could ask your customers questions and then easily gather the feedback? The best email marketing software for small business outreach will let you integrate surveys into your newsletters. Create a poll and get quick feedback on new products to offer, subjects to cover in your newsletter, or which day of the week would be the best to hold a marketing event.
By consolidating surveys with his email newsletter, Jim saw a few benefits. First, he saved money on software subscriptions. Second, he was able to ask his audience questions, and the responses helped him improve customer service, focus on products customers want, and ultimately drive more business.
Data Reporting and Dashboards for Performance Data
The final key features to look for in an email service provider are data reporting and dashboards. When you're sending emails, it's important to have access to data on whether emails are being received, opened and acted on. Providers offer the ability to look at your newsletter's performance overall, as well as how specific subject lines or content performed.
Jim wanted to understand what resonated with his audience. By leveraging the data features of email marketing tools, he was able to understand the subject lines, content types and topics that get customers to buy. Performance data allowed him to strategically plan his newsletter subjects in advance to generate a positive return.
Email marketing is one of the most effective digital marketing strategies. Streamline your workflow so that you can focus on delivering engaging content to your audience on a consistent basis. Your business will forge stronger customer relationships, build more buzz for sales, and cultivate an important marketing channel that builds the foundation for future growth.