Women are making their mark on the small business landscape. Their businesses are contributing heavily to the U.S. economy and are growing at a tremendous pace. Though challenges still exist, like financing small businesses for women or a steady supply of training, the progress made deserves celebration. As International Women's Day approaches, we're shining a spotlight on women's stake in the marketplace, while honoring some female small business owners who persisted through times of struggle.
Where Female Small Business Owners Are Thriving
According to a report from SCORE, women own 39 percent of U.S. small businesses, and from 2007 to 2016, the rate of women starting businesses increased by 45 percent — five times faster than the national average. And they're not slowing down; between 2017 and 2018, women opened 1,821 new businesses every day, according to the State of Women-Owned Businesses Report by American Express.
This growth is a powerful force in the economy. Women-owned businesses contribute $1.8 trillion to the U.S. economy and employ 9.2 million people. Businesses owned by women of color account for 47 percent of all women-owned businesses, employing 2.2 million people and generating $386.6 billion in revenue, according to the American Express report.
Fueling the growth is a combination of necessity and opportunity. Some women cannot find quality employment, and their only viable option is to start a business. Others identify and target a market opportunity. Half of all businesses with a woman at the helm are in service companies, such as hair salons or pet groomers; health care and social assistance firms; and professional and technical services, reported American Express, proving that women are making a difference across a variety of sectors.
Financing Small Businesses for Women
Any business owner knows that it can take an investment to grow, and small business funding for women can help them grow their livelihood. Small business loans for women can have a transformational impact on any company's growth and success.
Yet despite dramatic growth and results, there are significant gaps when it comes to financing small businesses for women. Men are more likely to seek and be approved for a loan, and they get bigger checks. In 2017, the average business loan for women was $57,097, while men received nearly double at $103,604, according to CNBC.
Putting funding in place is a smart and proactive way to grow your company, and female entrepreneurs are proving that small business loans can solve the challenges they face.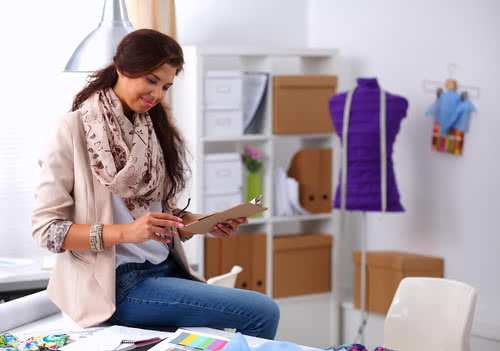 How Cheryl Dailey Created Positive Cash Flow
A common problem for entrepreneurs is creating positive cash flow. Cheryl Dailey, co-owner of Master Handyman, LLC in the Cleveland, Ohio area, experienced this firsthand. Her company was started in 1991 and eventually transitioned from residential home improvements to commercial work after the owners discovered the underserved market could transform their business for the better.
"We were growing so fast. We knew there was going to come a time when we needed to borrow money," Cheryl said.
Unlike residential projects that are paid upfront or upon completion, Cheryl had to adjust to a longer payment timeline with commercial projects. She and her partner, Dan, took out a small business loan and used the money to help with cash flow. The infusion of money also enabled them to hire additional employees instead of relying solely on day laborers.
During their search for the right funding partner, Cheryl found some lenders to be incredibly pushy while some refused to talk to her. "[They insisted] on speaking with Dan," she said. "They treated me like a gatekeeper and lied about conversations they had with Dan and paperwork I should send."
Female business owners should surround themselves with people who are interested in their success, advised Cheryl. "[National Funding loan specialist] Christine Baeza took the time to find out what we were looking for instead of pushing what she had to offer," she said. "It felt like a partnership instead of a sales pitch."
Why Joann Johnson Focused on Capital Investments
Another common challenge for small business owners is financing capital purchases and investments. Joann Johnson owns JoChas Moving and Delivery with her son, Charles, a former NFL player. The business was started in her dining room in 2005, and today has grown to five locations and seven moving trucks serving all of South Florida.
"Our primary focus is to provide the best customer service, from the moment someone calls until the last item is delivered," she said. "Being the mother of this company, I like to be right there, hands-on with our customers, making sure that all their needs are met."
Like Master Handyman, LLC, JoChas Moving and Delivery was growing at a rapid pace, and Joann realized they didn't have enough capital and cash flow to sustain their growth.
"We also wanted to invest more in our advertising, which is very important with a moving company," Joann explained. "And there are always tax payments to be made and repairs needed to keep the trucks running."
Joann's first stop was with a traditional lender, but they wouldn't give her a chance, she said. "National Funding was willing to take a risk," she said, adding that they've taken out two loans to date. "The first time, it was very important that we get our first truck paid off, and we also used the loan for tax purposes. Our second loan helped us to purchase more supplies."
The best thing owners can do is to find small business lenders that complement their business and act as a partner in their growth. Joann believed it's important to find the right lender who can form a long-term relationship with small businesses for women.
"We may be a small fish in the big pond here, but they made me feel very special," she said.
The Future of Women-Owned Small Businesses
While women are starting businesses in record numbers, they can use help to start setting record revenue growth. Eighty-eight percent of women-owned businesses generate less than $100,000 in revenue, and less than 2 percent generate more than $1 million in revenue, according to American Express.
"Growth in both employment and revenues begins to take off for women-owned businesses when they reach $250,000 in revenues. Supporting businesses on the cusp of crossing this threshold ($100,000 to $249,999) — and those that have crossed it — could accelerate the growth of larger women-owned businesses," the American Express report stated.
Taking your business to the next level can require an infusion of cash, yet only a quarter of women are likely to seek financing, compared to 34 percent of male entrepreneurs, reported SCORE. The success of other female entrepreneurs can inspire women to understand the power of small business funding for women. When small businesses for women grow, they can continue to change lives and contribute a larger piece to the economy.