As a business owner, you may not be familiar with all the available online marketing tools for small business needs. Yet all too often, you're the company's chief marketing officer in addition to all the other hats you wear. It's important to invest in marketing that pays off, and today's hottest option is digital marketing. One study from Small Business Trends found that 83% of small business owners believe their digital marketing efforts are effective.
You may be hesitant to invest in the cost, but luckily, there are a host of free and affordable online marketing tools for small business owners. Here's a closer look at the top digital marketing tools to help you connect with customers, build your brand and grow your bottom line.
Why You Need Online Marketing Tools for Small Business Growth
One of the most common challenges small businesses face is getting the word out to potential customers. It can be hard to know where to find customers — and reach them once you do find them. Consider the case of Ted, a local retail entrepreneur. When Ted opened a local fishing store, he wanted to find the best way to connect with buyers in his area. For him, that meant choosing the best way to identify and market to outdoor enthusiasts and fishing fans in his city and the surrounding areas.
It's difficult to find the best advertising tools for small business needs, and decide where to spend your time and money. However, there are a number of platforms and tools that make it easier to do everything from building a website to sending an email marketing newsletter. Plus, many of them are free, and if you find them useful, most offer paid options that have even more advanced features. To help you get started, we've identified some of the most critical online marketing tools for small business owners — which also provide the highest return on investment.
Build a Website With WordPress
Building a website is one of the most important growth steps you can take for your company. In fact, a website is one of the best advertising tools for small business owners. Customers often begin their buying journeys with an online search and will visit a business website to learn more about services, products and pricing. Luckily, you don't have to spend the hundreds or thousands of dollars it can cost to hire a professional designer to build an effective website. Online marketing tools for small business needs like WordPress make it easy to create your own website.
Ted decided to invest in a website as his first marketing priority. He bought the domain name for his store, found an affordable hosting provider, and then set up WordPress. Using an existing template, he was able to have a professional website up and running in less than a day. WordPress also offers additional features, such as the ability to add a blog to your website and easily factor in search engine optimization (SEO), which will help your customers find you in search results.
If WordPress isn't the right fit for your needs, there are other user-friendly options to consider. Wix and Squarespace are both easy-to-use options that eliminate even more of the design work involved in creating your own website. They may be more costly than WordPress, but they can be good options when you're evaluating how to get your website started.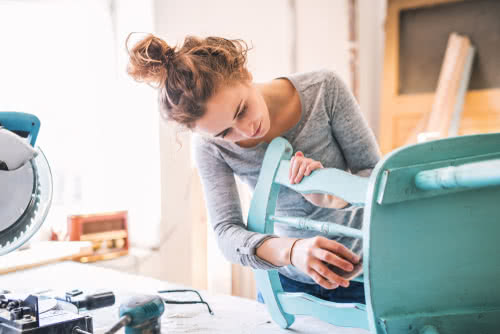 Optimize Your Website Keywords
SEO is another cornerstone of your digital marketing strategy. SEO starts with understanding the keywords your customers or prospects are likely to search for and then making sure those keywords are included in key areas of your website. For many small business owners, this often includes terms related to their industry and locale. When Ted made his website, he used two tools to help him navigate the SEO process.
First, he used Google Ads Keyword Planner to discover target keywords. His research revealed that terms like "fishing store" and "bait supply" were important to his customers, along with a few specific geographic terms such as his city's name and zip code. Then, since he used WordPress for his website, he installed the basic Yoast SEO plug-in. A plug-in is a small add-on to a WordPress site that adds additional functionality. The free version of Yoast made it easy for Ted to optimize his entire website, as well as its individual pages. This optimization increased the chances that potential customers using search engines would find his website.
To get the most value out of a keyword tool, start with a basic search. Choose the terms you would look for when searching for a business like yours. Check to see what the search volume is for those phrases, and then look at the recommended options. For example, more people may search for "bait and tackle shop" than "fishing store." This information can help you better target your needs and understand the language your audience typically uses. The more dialed in you are to that language, the more successful your marketing content will be.
Manage Your Social Media Accounts
Customers are active on social media and often follow the brands they love for news, fun content and discounts. Social media accounts help you get your brand in front of customers and prospects every day. But what if you don't have the time to post to your social networks every day?
Enter social media management tools. Providers like Hootsuite make it easy to manage your social media accounts. You start by signing up for an account; most providers offer a free option as well as paid subscriptions with more advanced features. Then, you connect your business social media accounts, like your Facebook page and Twitter account, to the social media management software. Using a social media management platform, Ted was able to write his social media content, upload it once a week, and schedule it to post throughout the week ahead. It dramatically cut down on the time he spent online, freeing him up to interact with customers, answer questions and respond to reviews.
As an online marketing tool for small business needs, a social media management platform can help you get the word out about your business. They allow you to batch your content creation and schedule it in advance. Many also let you watch for mentions of your brand name or important phrases related to your industry. Managing your posting and engagement from one interface helps you stay connected, while also streamlining the time you spend on your social media accounts.
Stay in Touch With an Email Newsletter
An active email newsletter is one of the best advertising tools for small business owners. Customers who sign up for your newsletter invite you into their inbox, providing a touch point that isn't affected if a social media network disappears or an advertising venue goes out of business.
When Ted opened his fishing store, he invited customers to visit his website and sign up for his newsletter. People who subscribed received a discount to use at their next visit — which often brought them into the store. As the store adds new inventory or runs sales, Ted can send out a quick email notifying those people on his email list.
Online marketing tools for small business owners make email marketing easy. Take Mailchimp, for instance. It's free to sign up, and then offers paid plans for a variety of features. The program lets you store your email list and choose from professionally designed templates, making it easy to send out email campaigns. Reporting features help you keep track of what's working and other factors, like when your audience opens their messages. Reviewing this data periodically helps you dial in your campaigns to be even more effective over time.
Manage Your Reputation With Review Sites
Customer experience is king, and customers are increasingly using sites like Yelp and TripAdvisor to share their opinions. Many customers also consult online review sites before doing business with a company. A slew of great reviews can be all it takes to get them to use your services. By contrast, too many negative reviews can send potential customers to your competition. Online marketing tools for small business operations make it easier to keep up with what customers are saying about you online and let you respond as needed to maintain your reputation.
Ted discovered that customers had been leaving reviews for his business on Yelp. By going through the process to claim his store's page, he gained access to additional features. He was able to update contact and store information, respond to positive and negative reviews, and build more of a community around his business. Most importantly, Ted was able to connect with his customers and keep a pulse on what mattered most to them. Ultimately, being active on review sites provides real-time information on how your business is performing and lets you take action if a problem arises.
Learn Basic Online Advertising
For a long time, retail advertising meant printing an ad in the local newspaper or putting a flyer in nearby mailboxes. Today, growing companies have access to digital ads. Some of the most common options include running pay-per-click (PPC) ads on search engines, so your ad appears in the sponsored section when someone runs a search. Another one of the best advertising tools for small business needs is social media advertising. With social media ads, you can spend a little money to boost the visibility of your posts or increase awareness of your account.
Online marketing tools for small business needs specialize in helping you navigate the process. For example, Facebook Business allows you to create a campaign, upload a budget and manage your campaign. Over time, Ted noticed that his customers were very active on Facebook. He created a Facebook ad with a small budget to start, and when he saw that it was bringing customers to his store, he created an advertising plan that fit his budget.
The key to online advertising on digital platforms is starting small. It's easy to quickly spend a significant amount of money on online ads. Making sure that your advertising is successful before scaling up keeps costs under control while letting you experiment. There are many good resources on digital ads that can give you an idea of how different platforms work and let you explore whether they're the right fit for your business.
Use Task Management Software
If you're working with another person, a task management software solution is an essential online marketing tool for small business owners. When Ted was planning a marketing strategy for his shop, he decided to hire a freelance designer to create some basic graphics.
By planning ahead, he was able to develop a calendar and forecast a budget to cover his needs. The designer created simple social media graphics and images to be used for online advertising. Creating a calendar that matched up to his planned advertising campaigns — and helped him track the different projects — was essential. Ted decided to use the project management software Trello. Trello is a visual tool that lets you capture ideas, categorize them according to keywords, and tag team members for review.
Digital marketing has many moving parts, and staying organized is a key to success. Finding the right online marketing tools for small business needs and your specific budget can help — and project management is no exception. Look at the different features that solutions offer. Consider how many devices will need the software, how many people will be using the system, and whether you're looking for a to-do list or a more robust project management software. Options exist across the spectrum to help you get more done.
Ted, like many small business owners, saw a significant return for his digital marketing efforts. Get more bang for your buck and grow faster by finding a few online marketing tools for small business needs to help you achieve your goals. But keep in mind, not even the best advertising tools for small business owners can help if it hurts to afford them. Working capital loans can help you invest in these tools without stressing out your cash flow.
If you're ready to make an investment in growth, digital marketing offers one of the most important — and most accessible — avenues for getting started. Not only can investing in this area help you attract new customers, but it can establish the foundation for long-term growth and financial stability.
The recommendations, opinions or views expressed in this article are those of the author, and do not necessarily reflect the recommendations, opinions or views of National Funding.