SMS or text message marketing for small business owners can create new customer relationships. Inc. reports that the average person spends four hours per day on their smartphone. SMS marketing lets you reach beyond cluttered inboxes, ad-filled social media feeds and other noisy marketing options to build personal connections.
How Text Message Marketing Works
SMS marketing strategies for small business owners offer different ways to send text messages to customers. Typically, SMS marketing texts have a strong open rate. Esendex found the global open rate to be 94%. Few mediums today command the same level of customer attention, including email. In addition to the high open rates, SMS messages are easy to track, offer immediate feedback and help you stand out in a field that's not saturated by competitors yet.
When a florist wants to improve their customer experience, for instance, setting up reminder SMS text messages for recurring occasions like Christmas or birthdays can help add value and increase sales.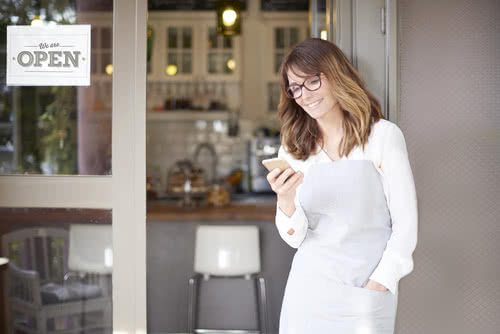 How to Manage Opt-Ins
The Telephone Consumer Protection Act requires that you have explicit permission to contact consumers by phone. There are a few ways to gather customer telephone numbers and ensure customer consent. Here's a quick overview:
Work with a service that provides you with a keyword and a phone number, like "bestclothesprices" and a number like 12345. You can explicitly ask a customer to text the keyword to the number provided, receiving their consent for you to add them to your list.
Another option is to get customers to opt-in via a web form. Simply add a form on your website that allows users to put in their phone numbers, similar to collecting email addresses for a newsletter.
If you don't want to operate your own SMS marketing list, you can also sign up for an established third-party SMS marketing app. These services prompt your customers to download an app. Then, the app will offer discounts from member brands in exchange for the customer's contact information. When you sign up as a brand with that app, customers who pass near your store's location will receive a text message with promotions or coupons. Apps often discount memberships to several businesses in a local area, which provides a great way to collaborate with other businesses.
All of these approaches help you gather customer phone numbers. Make sure that any strategy you use — from a website form to a third-party service — includes a clear disclosure that guarantees customer consent to contact them by phone.
SMS Marketing Ideas for Small Business
Here are some creative ways you can use SMS marketing to connect with customers:
Offer service-based texts: Banks and other businesses use SMS messaging to confirm customer service requests, such as a confirmed deposit. A healthcare provider could use SMS messages to confirm appointments or remind patients of upcoming appointments. Find ways to offer fast, targeted customer support through your SMS efforts.
Share exclusive deals: Brands like Redbox offer a strong example of how exclusive deals add value to retail text message marketing by regularly offering customers a free night's rental. Consider sending coupons, exclusive discounts or promotions such as a buy one, get one free. A restaurant that sends a coupon for a free drink may entice customers to come in for an entire meal.
Run a giveaway: Another way to increase engagement through SMS marketing is to run a giveaway or sweepstakes. Not only does a giveaway encourage engagement and excitement, but it helps keep your brand on customers' radar.
Ask questions: Looking for new ways to get to know your customers? Consider running a brief poll or survey via SMS. Ask just one question, and you can quickly gather actionable insights. The key is to stay focused. Don't try to get too much information from a single exchange.
Share visuals: Texting is a great place to share image-based ads. Not only is it likely to capture your audience's attention, but it will differentiate your message. A visual might range from an image-based coupon to a fun meme about an upcoming event.
Text message marketing for small business owners can be a great way to grow business, but it may take an investment of time and cost. If you're planning to include SMS marketing as part of an expanded marketing plan, you can look to a small business loan to cover any costs buying new technology or software, or perhaps hiring a dedicated marketing person.
Once you determine that your goals align with this technique, tap into SMS marketing strategies for small business owners to make the most of this channel quickly and affordably.