As a small business owner, you may be trying to evolve your approach to connecting with customers. With mobile's increasing popularity, you may even consider building a mobile app for your business. According to Social Media Today, the average consumer has 80 apps installed on their smartphone. But small business apps aren't right for every company. After all, business owners need to take many steps to develop an app, and there's certainly a cost involved. Here's how to decide if your business needs an app.
What Are Small Business Apps?
If you built a mobile app for your small business, customers would download it from a third-party app store and install it on their smartphone. The app could feature information about your products or services, content about your industry, or other relevant information. For instance, a doctor's office or auto repair shop might use an app for appointment scheduling. Boutiques and retailers might offer app-based customer service. In today's app-focused environment, customers can easily complete tasks while on the go.
Steps to Develop an App
According to ThinkMobiles, developing a complex app can cost up to $500,000, while a simpler app with key scheduling features might cost between $10,000 and $50,000. Typically, the development process could take several months or longer. To start, you'll likely work with an app development team to outline your vision for the app.
After they help you create an app blueprint, they'll create the app, develop the features, and test it. Once it's ready for customers, the developers will release the app to third-party app marketplaces for Apple and Android. You can then let customers know about the app so they can download it. At this point, the developers may charge ongoing costs to perform updates, fix bugs, or provide customer technical support.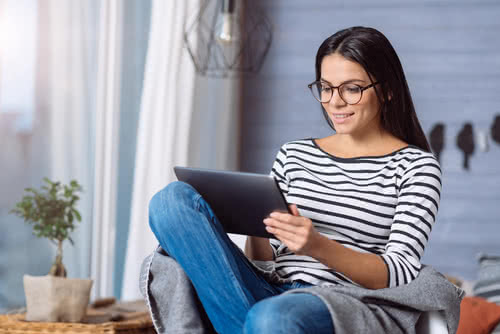 Is an App Right for Your Business?
Developing an app and rolling it out to your customers take a significant amount of effort. Before investing in an app, ask yourself these four questions to determine if it's worth it.
1. What Features Would You Include?
Come up with a list of your ideal features, and include how they'll help grow your business. Identifying your priority features can help you get an accurate cost estimate and development time frame for creating your app. Also consider if an app is the only way to offer this feature. For example, if you're looking to offer an appointment scheduling feature, that could add value for customers. However, there may be other solutions, such as third-party apps, that integrate with your website and offer other avenues to deliver the same feature.
2. Do You Have a Mobile-Friendly Site?
A dedicated mobile app can be a great choice to offer specific features, such as augmented reality tours. Yet in some cases, simply investing in a mobile-optimized website may be a better choice if you're solely focused on your mobile users. A mobile-optimized website means it will show up properly on a wide range of devices, like phones or tablets.
3. Does the Cost Fit Into Your Budget?
As mentioned above, developing an app can cost thousands of dollars. In some cases, the ability to offer faster appointment scheduling, real-time customer service or order tracking can increase sales and quickly pay for the investment. As you determine whether an app fits your needs, remember that small business loans can help make this investment a reality if it's right for you.
4. Can You Provide Ongoing Support?
Apps aren't always "set it and forget it." Customers might have challenges downloading the app or using the features, or they may want fresh content. Before deciding if an app is right for you, make sure you have the technical support and staff available to deliver an excellent customer experience.
If you're focused on delivering digital customer experiences, building an app could forge deeper, stronger bonds with your customers. But to understand the best path forward, get to know the costs, timeline and strategies needed to make a small business app a success.