How does your business engage with current and prospective customers online? Chances are, you have at least a basic website with a link to a "Contact Us" form, an email address and perhaps a presence on one or more social media channels. These are excellent tools to help extend your customer connection beyond your front door, but if you want to convert those contacts into sales, you have to use them effectively.
Brands like American Express, Staples, and Zappos are well-known for their mastery of connecting with customers online. Their responsiveness, relatability and helpful, entertaining content have made them favorite online destinations for consumers. And while those examples are major corporations, the qualities they showcase are key to the success of any online marketing strategy for large and small companies alike.
Here are four best practices for creating an effective online and social media strategy for small businesses.
Be Where Your Customers Are
Get to know the popular online hangouts among your target market, and make sure you have a presence there. For example, if you want to sell clothing to young customers who share fashion ideas on Instagram, join that conversation. Or if you have a home improvement business, a YouTube account might help reach audiences seeking how-to videos on household repairs.
Of course, even if you're on multiple social media platforms, it's only useful if you're actively engaged. That means responding quickly to comments about your brand — and even initiating some of those conversations yourself.
Tie Social Media Marketing to Your Goals
What do you want social media to do for your business? Whether you're aiming to boost brand awareness, bring more traffic to your website or brick-and-mortar store, be noticed by social media influencers or achieve a combination of goals, it's important to know what those objectives are.
A successful social media strategy for small businesses will ensure that posts on every platform align with carefully considered business goals.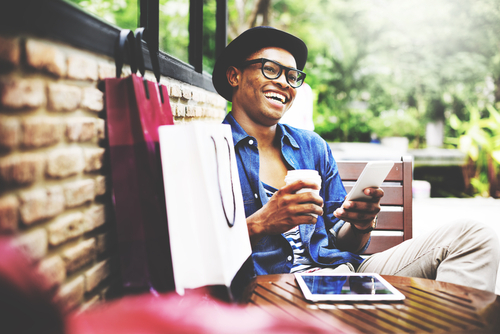 Keep Online Chats Professional
When you engage with consumers through direct messaging on social media, pay attention to how you manage those online conversations. Taking time to fully understand their concerns, showing empathy if they're experiencing problems with your product and using a conversational tone are all good ideas. Avoiding misspellings and grammatical errors will also help maintain a professional image for your brand.
For an added touch of both personalization and accountability, customer service reps should try signing online messages with their name.
Create Engaging Website Content
If you haven't updated your company website in a while, consider revamping it as part of your strategy for connecting with customers more effectively. You might include some engaging stories about how you started the business, how and why your team enjoys working together and how your product or service has helped customers.
When you have a new product launch, store opening or company community project coming up, why stop at just announcing it to your website visitors? Instead, think about live streaming the event so they can take part virtually. And when captivating website content like this inspires on-site visitors to connect with you directly, make sure that your contact information is easily visible on every page.
Inspire Real World Connections
Connecting with customers online in these ways will enable you to grow your business in ways you might've never imagined — that's the power of the internet and social media. So, sit down with digital and social media experts to begin implementing a smart social media strategy for small businesses. That way, prospective customers who come across your business online might be more compelled to engage with you in the real world.
For more online marketing tips, visit the National Funding blog.