After a long day's work, you may not have the energy to pick up food from your favorite local restaurant, much less cook. That's when you might turn to an online food-ordering platform like Grubhub or Uber Eats. It's a convenient way to have food delivered. As a restaurant owner, you may be thinking about partnering with one of these apps yourself — maybe it could help you sell more takeout and increase customer loyalty. But you also know a third-party delivery service will cost you money. Is the partnership worth the cost? Here's what you need to know.
How Delivery Services Work
Third-party delivery service providers develop an app or software program that allows hungry customers to log in and place an order. Their staff will then come to your restaurant, pick up the order, and deliver it to the customer's door. You'll receive the order profits after you pay the service a delivery fee — typically a percentage of the order total, but costs vary by provider.
Understand the Fees
When you're looking to connect with new customers or make it easier to bring fans back time and again, a delivery service can be a smart investment. However, these services aren't free — and often, the customers aren't absorbing the costs. Typically, restaurants pay a percentage or a fixed dollar amount on each order that's delivered. Restaurant Business reported that 60% of restaurants that offered delivery saw an increase in sales. Yet as Entrepreneur noted, the fees vary widely and range as high as 30%. Restaurant owners should try to negotiate between 18% and 25% to stay competitive.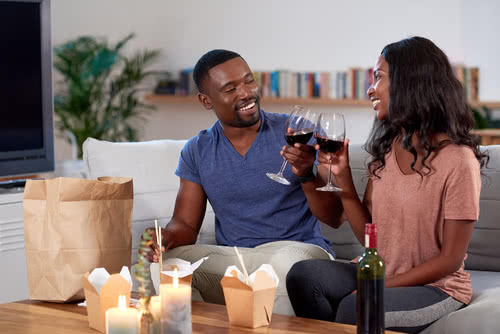 Look at the Full Financial Picture
When deciding whether to partner with a delivery service, it's important to consider the finances of each order. What's the average order that you make for delivery? How much does it cost you in labor, overhead and costs of goods sold? Can your margins sustain the delivery fees and remain profitable? If you're unsure, conduct a limited-time trial with a third-party service to test the waters.
Evaluate the Impact on Your Business
Customers who come to your restaurant receive a carefully crafted experience. You've decorated your space, created recipes, and made sure every dish is piping hot and perfectly plated. When you partner with an outside delivery service, it's important to make sure their service will match your quality. Do they follow food handling best practices? What happens if there's a foodborne illness issue or if their drivers get into a car accident, for example? In addition, it's helpful to understand their policies for hiring and insuring drivers, and the legal language used in contracts and service agreements to protect their partner restaurants.
Consider In-House Options
If you're looking to amp up your delivery business, a third-party service isn't your only option. You could launch your own internal delivery solution instead. You'd have to budget for coolers or equipment to keep food at appropriate temperatures, containers and bags, transportation options, insurance, and employee costs. You'll also need to decide whether to invest in an app or online food-ordering platform for your website.
That can seem like a big upfront investment, but it's important to run the numbers. Some restaurants prefer to only pay for what they use in the form of service fees to a partner. Others will look at options like restaurant business loans to fund their delivery service launch, as they plan to develop the service into an important, long-term income stream.
Whether you implement your own online food-ordering platform or partner with a third-party delivery service, offering delivery can add new revenue streams to your restaurant. While today's customers are hungry for ease and convenience, take the time to think big picture and make sure you're planning long-term strategies that will support a hearty bottom line.