Small business owners have been given the green light to reopen after the initial COVID-19 shutdown, but the virus remains prevalent. As you reopen your small business, you'll want to reassure your clientele and employees that you're taking all the necessary precautions. Cash flow loans for small businesses can help you make the necessary investments to operate safely. Here's how you can best prepare your business.
Government Safety Requirements
Government regulations for workplace safety typically come from the Occupational Safety and Health Administration (OSHA). OSHA's COVID-19 website states that workers must be given personal protective equipment (PPE) when the job hazards warrant it. This includes masks, gloves, face shields, and hand sanitizer.
OSHA requires that employees are in environments "which are free from recognized hazards that are causing or are likely to cause death or serious physical harm." The administration recommends a few specific workplace upgrades that can help meet this standard for COVID-19, which are covered in the next section.
The Centers for Disease Control and Prevention (CDC) recommends that business owners promote social distancing by keeping employees and customers six feet apart. State and local governments may have their own rules (like whether masks are mandatory), but their guidelines usually follow OSHA. Finally, trade groups and thought leaders in your industry could have their own recommendations, like Kroger did for grocery stores.
Possible Investments to Improve Safety
Beyond their general guidelines, OSHA put together some investment ideas to reopen small businesses safely. These include:
Installing physical barriers. Plastic sneeze guards and windows can protect employees and customers. These are particularly important for jobs that can't be spaced six feet apart, like a cashier taking money from customers or workers facing each other on a manufacturing line.
Increasing ventilation rates in the workplace. If you can improve ventilation by upgrading your HVAC system or adding fans, you can reduce the risk, because COVID-19 is an airborne disease
Adding high-efficiency air filters. Adding these to your HVAC system could also reduce the spread.
Installing a drive-through window. The fewer customers in your building, the better for social distancing. Curbside pickup could also work, but if you have lots of traffic, a drive-through window may be a worthwhile update.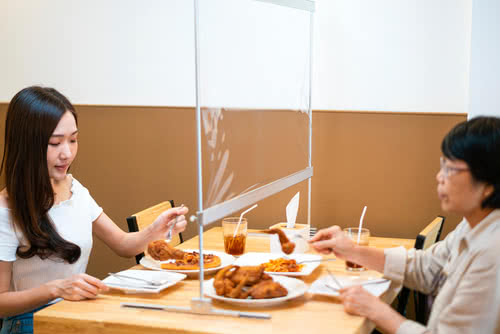 Installation and Upgrades
For these safety investments to work, they need to be installed properly. Some, like the plastic physical barriers, can come pre-made so you can set them up yourself. On the other hand, if you're looking for a custom barrier design or some of the more complicated upgrades (like a new HVAC system), you likely need to hire a contractor for the installation.
As you plan, also consider that these materials and services are in high demand, so it could be more expensive and time-consuming than usual to set everything up.
Business Owner Liability
Navigating the COVID-19 safety regulations can be a little tricky because the rules aren't set in stone. For example, OSHA suggests investments to create a safer workplace but doesn't explain situations in which they're required or mandatory.
For liability reasons, the key is that business owners make their best effort to keep employees safe from COVID-19. This includes providing the right PPE, maintaining social distancing as much as possible, regularly disinfecting the workplace, and making the OSHA safety investments when appropriate. Taking these steps — and, when in doubt, erring on the side of caution — will not only help keep your employees healthy, but will also reduce your legal risk.
Cash Flow Loans for Small Businesses
For companies coming out of the COVID-19 shutdown, funds could be tight. Cash flow loans for small businesses can give you the money to not only make these safety upgrades, but also to jump-start your hiring and marketing again.
With alternative lenders, you could qualify for funding within a few days so you can start making these investments and reopen as soon as possible. Once you start making sales, you can pay back these loans whenever you want with no penalty.
By taking these reopen small business steps now, you'll have the upgrades and the money needed for a successful launch in the post-COVID-19 world.