Transitioning from active duty to civilian life can be quite challenging. In fact, one of the biggest concerns among veterans is how to apply their training to the workforce, according to the National Conference of State Legislatures. Veterans should rest at ease — the character traits of a veteran transfer well to the skills of a successful small business owner.
Want proof? Veterans own about 2.5 million businesses in the U.S., employ more than 5 million people, and bring in $1.14 trillion in annual revenue, according to the Small Business Administration (SBA). You'll find a veteran-owned small business across all top industries, including professional services, construction, real estate, warehousing and transportation, and retail.
If you ever need a reminder of your strengths, look to these five character traits of a veteran that will serve you well as a small business owner:
Work Ethic
The military — especially basic training — is no place for slackers, and veterans often have adopted a strong work ethic. They're up and at 'em early in the morning, and they don't rest at night until the job is done. "That's not my job" is not a phrase you hear uttered on base.
For an entrepreneur, this strong work ethic will help you keep going. In a veteran-owned small business, you'll likely be the first person at the office in the morning, and you won't mind staying late and locking up at night. A strong work ethic will also help you stick with difficult tasks, seeing them to completion. And when obstacles come your way, you'll persevere, no matter what.
Risk-Taking
Being in the military means not always knowing what the next day holds. Soldiers, sailors and airmen and women need to be willing to take risks and operate well under pressure.
This is one of the character traits of a veteran that will help you in the entrepreneurial world where there are no guarantees, and where you need to be willing to evaluate risk and seize opportunities. When you lead a small business, you need to take a leap of faith and work well under pressure. As a veteran, you're experienced in this area.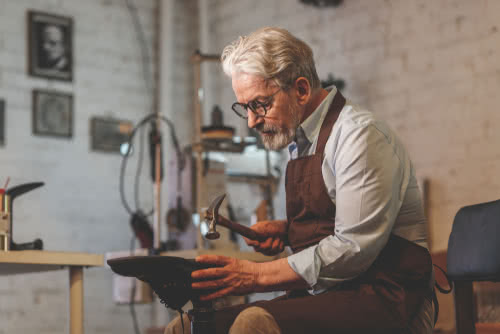 Self-Confidence
Another trait that aids veteran small business owners is the belief in themselves and their abilities. Courage comes from self-confidence, and it's developed from training, strong teamwork and commitment. You can't be timid to be in the military; battles aren't won on defense.
Self-confidence will be an important trait for you as a business owner, too. You need to believe in yourself, your product and your team. Having the determination to face competition and persist can keep a business afloat when challenges arise.
Leadership
Whether they moved up the ranks themselves or worked under a strong ranking officer, veterans are exposed to several levels of leadership. They know what it takes and what it looks like — good or bad.
As an entrepreneur, you're a leader, whether you're simply leading yourself in the beginning or a team of others as you grow. Having the ability to inspire others creates a company where people want to be part of the team.
Time and Resource Management
In the military, service people have to make do with what they have. That can mean getting a big job done with a seemingly impossible timeline or creating a successful mission under conditions that are not ideal or that lack resources.
As a business owner, you'll have to use that scrappy mentality. You'll need to find ways to stretch resources and work on a shoestring budget as you launch your company. You also have to find innovative solutions to problems, making quick and creative decisions.
Resources for Veterans
If you're a veteran and you need help expanding your business, here's a comprehensive list of resources that you may find helpful. Whether it's writing a business plan to look for funding or finding more training, it's important to reach out and get the support you need, so you can join and rise in the ranks of a new kind of team: successful entrepreneurs.