Building a beauty salon or spa can be challenging. Once you've been in business for a year or more, repeat customers can help sustain your salon or spa — but consistently bringing in new clients for continued growth is not easy. If you're experiencing a lull, you may be wondering how to grow your beauty business beyond the status quo.
The key to achieving ongoing growth is to keep existing customers happy while continually working to bring in new customers. Consider these four important strategies for how to grow your beauty business on a long-term basis.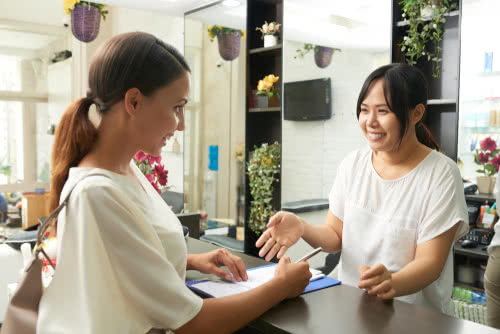 Streamline Appointment Wait Times
One of the top reasons customers switch salons is because the wait time is too long and they don't feel that their time is being valued, according to stylist Jessica Crane. With today's technology, there are many options for automated salon appointment scheduling that help you stay on schedule. If you're having trouble managing time with your appointment book or current system, consider investing in a new system that can minimize wait time for your clients — and downtime for you.
Upgrade Beauty Salon Equipment
If your salon or spa needs a makeover, it might be time to invest in some new equipment. For example, adding new shampoo stations can not only refresh the look of your shampoo area, but they may also allow you to serve more customers at one time.
Whether you need new styling chairs or stations, hairdryer or pedicure chairs, or other equipment, purchasing new equipment is sure to give your business a face-lift. And in most cases, you can deduct the full price of the new equipment from your taxable income during the year you purchased it with a Section 179 tax deduction. Even if you'll be making payments on that equipment for several years, you may be able to deduct the total purchase price all in one year.
Take Advantage of Social Media
Your current and potential customers are likely already using Facebook, Instagram and other social media. By connecting with them there, you won't just strengthen relationships with existing clients; you're also likely to find new ones.
Consider posting photos that showcase your work, such as before and afters of a great haircut or color, or of clients enjoying a facial or other spa service. Post announcements of upcoming events, or openings in your schedule. You never know when someone will see your announcement and decide to fill one of your open spots.
You could also offer incentives for current clients to leave social media reviews. Some stylists offer a free product for customers who post a Facebook review, for instance.
Add New Services
Another important way to draw in new customers — and keep the ones you have engaged — is to add new services that complement your current offerings. For instance, if you only offer hair services, consider adding waxing, manicures and pedicures. If your salon caters to women, consider marketing your services for men and children as well, so your current clients can bring in the rest of their families. Just remember to update your salon business plan if you add more services.
Growing your beauty business may require spending some money upfront to reap the benefits later. If you're not prepared to pay upfront, a beauty spa business loan can make your growth more manageable. By doing the work now, you can build a business that will continue growing over the long term.