You receive a letter, email, call or even text promising thousands of dollars in loan funds for your small business — guaranteed! The offer is tempting. With the COVID-19 pandemic creating devastating financial distress and creating the need for funding to stay afloat, business owners need to remain more vigilant than ever.
As attractive as the offer sounds, there may be a little voice in your head asking, "Is this too good to be true?" Listen to that voice. You could be one of the latest targets of small business loan scams. Perpetrators posing as business banks and loan brokers get people to send in application forms with credit card, bank account or Social Security numbers inserted. The scammers then use this information to try to steal the victims' identities and money.
Criminals will likely continue to use new methods to exploit COVID-19 worldwide. Stay alert and stay informed about common fraud schemes related to the coronavirus pandemic — especially when it comes to financial and loan services.
Here are five red flags that may signal that a so-called lender is not trying to provide funds to your business but take them away.
1. The Offer Is Unsolicited
One major potential tip-off to a loan scam is that a loan offer comes out of the blue. If you haven't requested loan information from a lender, yet suddenly you have an email in your inbox making big promises right off the bat, that's a reason to be suspicious, notes All Business.
In one fraud case described by the online lending industry publication Coleman Report, several people were charged with using the dark web — made up of sites with hidden IP addresses and anonymous hosts — to acquire the names of 35 small business owners who had been denied business loans. Claiming the businesses qualified for new loans, the alleged scammers collected more than $2 million in bogus fees, according to the indictment.
2. There's an Upfront Fee
The requirement to pay an advance fee to access a loan is another red flag. In some cases, fake loan brokers have demanded loan processing fees as high as $3,000, only to ghost the unsuspecting loan applicant after the check arrives, reports All Business.
Not only is this not the way real lenders do business, but as the Better Business Bureau (BBB) points out, U.S. law forbids any company from doing business by phone to promise a loan and demand payment of fees upfront.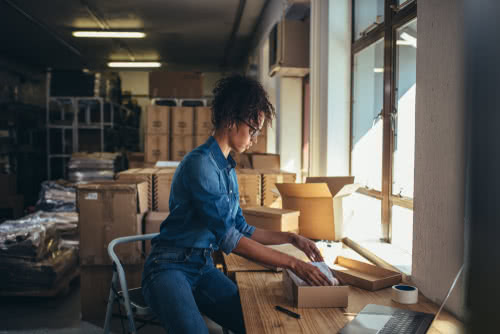 3. Approval Is "Guaranteed"
Small business loan scams often lure their victims with the promise of guaranteed approval, even before the lender has checked out the company's proof of income. As explained on the website Business Know-How, legitimate small business lenders never do this. They want to see some evidence of your willingness and ability to repay a loan before they agree to lend money to your business.
4. Equipment Lease Requires Prepayment
Let's say your growing electrical services business needs to add another technician's van or it's time to replace the dishwasher at your restaurant. You could be a prime target for a scam involving fake equipment lease or loan programs.
The aim of this type of fraud is to get you to send money, ostensibly to cover your first and/or last month's payment, notes All Business. And, of course, your equipment never comes.
5. The Payment Method Is Questionable
Unusual methods of sending fees or monthly payments on small business loans can be a warning sign, too. For instance, the BBB says you'll never find real lenders requesting payments through Green Dot MoneyPaks, iTunes cards or wire transfers. All Business adds that you also should be wary of foreign mailing addresses and P.O. Boxes, which scammers may use to transport your money or sensitive data overseas.
The more you know about how legitimate small business loans are handled, the less likely you are to fall for small business loan scams and the easier it will be to drown out the noise on your loan search. For example, the BBB notes that while real lenders often charge fees for loan applications, appraisals and credit reports, they deduct those fees from the amount of your loan rather than demand them as a condition of receiving the loan. And while online business lenders can offer a quick decision on your loan approval — often within 24 hours — they never give preapproval or guarantee approval.
Get a clear picture of how to obtain a real small business loan so you can spot a fake one if it comes your way.