In uncertain times especially such as these during the coronavirus pandemic, a natural reaction for many of us is fear. Suddenly dealing with the unusual circumstances of COVID-19, your employees may feel afraid and insecure. As the owner of a company, you're likely making unplanned allowances to take care of your employees during the coronavirus pandemic. What you do to support your employees' well-being during the coronavirus crisis will set the stage for your business's operations in the future.
What is employee well-being, and how can you reassure everyone during a difficult time? We've broken down five things you can do on- or off-site to support your team and create a more secure environment.
1. Deliver Technology
If your employees are able to do their jobs from home, help them by making sure they have the tools and technology they need, loaded with the necessary software and cybersecurity protections. You can also take advantage of plenty of free tools to help with collaboration and communication, such as Slack for instant messaging and Zoom for video conferencing. Choose one and make sure everyone can access and use it.
2. Offer Flextime
Some of your employees may have added responsibilities during this time. Many states have closed schools and daycare facilities, and it may be harder to balance personal tasks with professional ones. If their role permits, consider offering flexible hours. Flextime can help reduce your employees' stress level by allowing them to take care of their needs by scheduling work hours during times that are compatible with their personal responsibilities. It signals that you respect their personal lives as much as you value their professional contributions.
3. Loosen Expectations
In a time of uncertainty, many of your employees may feel sad or fearful — both of which could greatly impact their productivity and work quality. Consider loosening your expectations and cutting employees some slack wherever possible. Put projects that aren't urgent on the back burner. Let go of smaller oversights or mistakes that just don't matter in the big picture. If you have sick policies in place, such as requiring a doctor's note, put those on hold and simply trust your employees when they say they're too ill to come to work. If you suspect that some employees may be hesitant to call in sick due to financial need, see if you can adjust your paid time-off policies — and encourage employees with symptoms to stay home.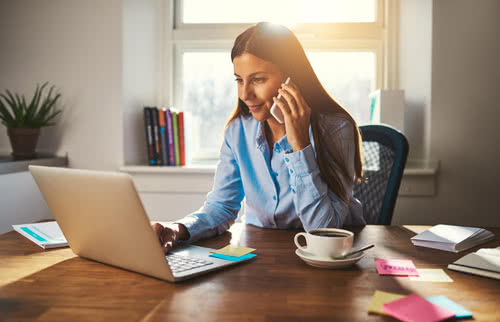 4. Boost Communication
When employees are working remotely, you'll need to make extra effort to engage with them and communicate frequently. A phone or video call will be better than a text or email, as it can be more personal. Give periodic updates about your workplace, and be transparent about any changes you may be contemplating. Even if you do have to consider layoffs, knowing what's happening instead of fearing the worst may help your employees better handle their stress.
5. Be Supportive of Employee Well-being
What is employee well-being and how can you support it? Employee well-being — the physical and mental health of your staff — is crucial to the morale and productivity of the company as a whole. Give employees a chance to share their concerns by appointing a person in your company to field questions, or providing a way for employees to submit questions anonymously. Consider wellness offerings like access to telehealth providers and online stress-management workshops. While the first few weeks of a crisis are the most stressful as employees adjust, don't assume that worries will go away as a new normal sets in. Let your team know that their well-being is your top priority.
Take Care of Yourself and Your Business
The impact of Covid-19 has reinforced how important it is to take care of employees, but also how important it is to take care of yourself. The health of your company will affect your employees' livelihood as well as your own. Investigate the new tax breaks the government is offering that may allow you to extend additional benefits during the coronavirus pandemic. And if you need additional funds to take care of your employees during this time, consider looking into small business financing options.
Your people are your most important asset. When it's time to get back to business as usual, the steps you take now will go a long way to strengthen your company.