The end of the year is a good time to reflect on how you've grown as a business owner, as well as the times when your entrepreneurial vision went fuzzy. You likely experienced some ups and downs, and hopefully walked away with a few lessons learned for next time. Why not turn those personal business goals into small business New Year's resolutions? Focusing on tasks that help you make more money will be a lot more fun than trying to stick to a personal weight-loss resolution. Plus, your dedication could be rewarded with increased sales.
Here are five small business resolutions that can help you fix the mistakes of last year and build your business in the months to come.
Upgrade Your Equipment
Whether you replace a finicky commercial oven or a truck that's always in the repair shop, upgrading equipment can make your daily operations more efficient. It can also help you bring in new business. For example, a fancy espresso machine could turn your bakery into a neighborhood hangout. New clientele might flock to your spa if you add an infrared sauna, offering an in-demand subscription service to your customers.
If you didn't get around to replacing equipment this year, or weren't sure how to afford it, build the expense into your budget and set aside the time to do the necessary research. You can apply for a small business loan or look into equipment financing or leasing.
Reduce Your Expenses
Start off the new year by auditing your spending. Most business owners can cut back on expenses in one place or another. Perhaps you're paying for software subscriptions you don't use, or you're renting a storage facility that's too large for your current needs.
Get new quotes on business expenses. For example, have an agent review your insurance policies to make sure you're not over insured or have duplicate coverage. Audit your vendor prices to ensure you're getting a fair price. Review your banking fees and make sure what you're paying is in line with other financial institutions. And if you do a lot of shipping, check other carriers to ensure you're getting the lowest rates. You can even have your utility company perform an energy audit to uncover ways to save on your monthly gas and electric bills. Saving money is one of the most popular and rewarding small business New Year's resolutions.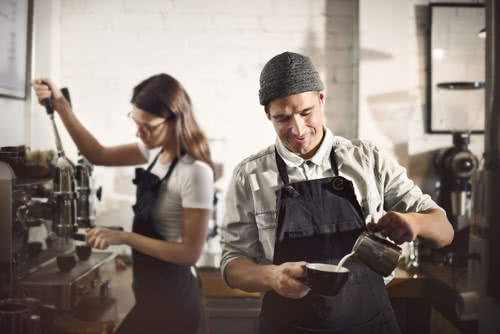 Create New Products or Services
If you haven't added a new product or service to your lineup in a while, kick-off the new year with a new offering. Consider the requests you've received during the past year and look into the requirements to take on these projects. For example, maybe you're a residential construction company that got a call about commercial work and you need to apply for certain licensing. Do an analysis of the cost associated with adding a new service compared to what you could charge. If it's worth your time, take the steps to launch new products or services.
You can also put a new spin on a current product or service by renaming it or changing the way you market it, giving it new life. For example, a caterer can create special packages for specific events, such as football tailgates or Valentine's Day dinner. Or a housekeeping company can create a weekly service called "Mom's Day Off," giving a fun spin on a regular offering.
Increase Your Market Share
Grow your business in the new year by going after a large share of the market. The first step is to retain your current set of customers. Implement customer loyalty strategies, such as providing special offers for repeat sales. A landscaping company could offer current year rates to customers that sign up in January for summer services. Or a restaurant can roll out a loyalty program that offers rewards after a certain amount spent.
If you have to turn away customers because you don't have space or time to take them, that could be a sign that it's time to open a second location. Not only can this help grow your client base, it can also increase your market share by exposing your business to new customers. With a new location, you'll also be able to better serve your existing customers. Perhaps the new spot will be more convenient to them; a second location will likely shift some of the traffic away, freeing up tables or reservations at your original place of business. Your original customers may also become more loyal and have a sense of pride, feeling as though they were a part of your success.
Give Back to the Community
Finally, consider what you can do to give back to your community by donating your time and resources. Charitable giving isn't just good for your community; it's good for business, raising your profile, helping you gain exposure and delivering tax benefits. It can also put you in good favor with customers, with 87% saying they purchase products because a company advocates for an issue they care about, according to the Cone Communication Corporate Social Responsibility study.
Make it even more meaningful by finding a cause that speaks to your heart. Maybe that means sponsoring a local children's soccer baseball league and buying their uniforms (with your logo on the front). Or perhaps you can sponsor a local 5K run — this is a great idea if your business is connected with the health industry, such as a spa. If you're a landscaping company, you can volunteer your time in a beautification project in your area. Or if you own a home construction company, find a local person or organization that could use your services to help make a habitable home for someone in need. Get your employees involved by giving them a paid day off to volunteer as a team. The possibilities are limitless and many can easily tie into your business and brand.
Putting the Year in Focus
By setting personal business goals and making business New Year's resolutions — big or small — you can become a stronger business owner in the new year. Growth is a sign of a successful business, and when customers see you expanding your equipment, offerings, location or activities, it sends a message that they're dealing with a company that is well run and likely to last.