A reliable customer relationship management (CRM) system will keep your customer information in one convenient location while streamlining your communication and marketing efforts. But with so many options available, it's not so simple to pick which one will best fit your business. When choosing a CRM for small business operations, you may not need the same set of bells and whistles as a big company, but that doesn't mean any system will do. Here are four key features you should look for in a CRM program.
1. Simple Software Integration
Your CRM system should be able to collect data from all the points where your business interacts with customers. You want a program that integrates with your business's existing POS software, telephone system, email marketing service, social media manager and other platforms. When all your tools work together, you'll be less likely to miss opportunities to bring in more leads, higher sales and more satisfied customers.
Be sure to discuss with your employees how a CRM program will tie in with the tools they currently use. And don't forget to evaluate whether the program can be used on a mobile device, PC Magazine suggested. For instance, find out whether your salespeople will be able to input customer data on the go or can only do so when they get back to the office.
2. Insightful Data Analytics
Your CRM program should help you improve your marketing and sales results, so check out its data analytics capabilities.
As your customer service reps get to know your customers, they can add that information to the CRM. Maybe the reps in your retail or plumbing business are noting an uptick in calls about a certain item or service. Other insights may come from your social media pages or comments your salespeople and technicians hear in the field. You need a CRM program that can track actionable data across departments and generate reports, so you can put that information to good use.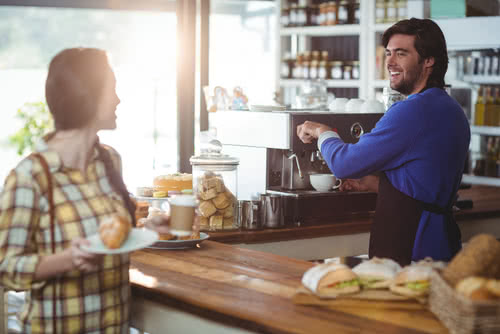 3. Smooth User Experience
Many CRM software vendors will offer a free trial period; make the most of it by testing the user experience (UX). The system should be easy to set up and intuitive to use. If the system interrupts your employees' normal workflow instead of simplifying it, your goal of creating more efficiency goes out the window.
Your UX test can also help you pinpoint the features you need in your small business CRM. That way, you can avoid buying a system that's inadequate or paying for functions you'll never use.
Another important consideration, as noted in CIO magazine, is whether it's easy to make changes to the CRM program as your business grows. You want a system that can scale up without a lot of hassle.
4. Affordable Price Point
Of course, your budget is also a key consideration when choosing a CRM for small business operations. It's not simply a matter of comparing subscription prices. As PC Magazine advised, you also should calculate the expense of training, ongoing tech support, periodic upgrades, and any new equipment you may need, such as smartphones or tablets for employees using the program's mobile app. If you don't have the funds on hand now, a small business loan could help to cover the startup costs.
And while you're weighing the costs, don't forget to consider the benefits of a CRM system. Though these systems do involve an initial investment, it's one that could bring great returns for years to come.