If your construction company is ready for steady but challenging projects, winning government construction contracts could be a lucrative method for business growth. Even if your construction business is on the smaller side, you may be able to benefit from government work. In 2018, the federal government awarded 25% of all contract dollars to small businesses, for a total of $120.8 billion, according to the U.S. Small Business Administration (SBA).
If you'd like to get a piece of that $120 billion pie for your construction company, you have to start by learning how to win government contracts for your small business. We'll walk you through how government contracts can help your business, how the bidding process works, and how to tell if you have the right resources on hand for government projects.
What Are Government Contracts?
A government contract is an agreement to provide products or services to the U.S. government. If the government hires your company, the contract can ensure long-term, stable work.
The government hires contractors through an online bidding process. Luckily for entrepreneurs, the U.S. government is committed to contracting with small business owners for a significant percentage of its work. The government also has target goals for working with women-owned and minority-owned small businesses. If your small business fits these criteria, you may have an even greater chance of securing government contracts.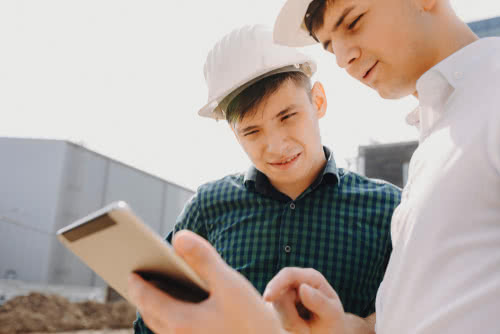 How to Register as a Contractor
The first step in getting government contract work is to register as a U.S. government contractor. Start by obtaining a Dun & Bradstreet's Data Universal Numbering System, or D-U-N-S number, for your business. This is a unique, nine-digit number for each physical location of your business that you'll need when bidding on government contracts.
After obtaining a D-U-N-S number, register your business in the System for Award Management (SAM) database. You must be registered with SAM to be awarded a government contract. You may even win contracts simply by being listed there, as federal agencies often search the database for businesses that meet their needs.
Locate the North American Industry Classification System (NAICS) code or codes that describe your product, service or industry. You can include your NAICS code in your SAM registration to make it easier for federal agencies to find you. It's also helpful to find the Standard Industrial Classification (SIC) code that best fits your business or industry so you can also include that code with your SAM registration.
To be eligible to compete for contracts with the General Services Administration, which offers a wide variety of lucrative contracts, you'll also need a Past Performance Evaluation. You can apply for this evaluation online and your application will launch an independent audit of your customer references. The audit will rate your past performance based on a statistical analysis of performance data and survey responses.
How the Contract Bidding Process Works
When you've completed the above registration steps, you'll need to find a contract on which you'd like to bid. You can find government purchasing needs online in directories such as beta.SAM.gov and Dynamic Small Business Search. You could also try for a government contract as a subcontractor for another business, known as the prime contractor. Subcontract opportunities are listed on SubNet, operated by the SBA.
Small business owners can search these directories for contract opportunities that match their capabilities, and place bids on the contracts. Be sure to include all the information requested by the hiring agency. It's important to carefully calculate your bid price and include any costs you'll incur to perform the work, as well as your profit. Once you've signed a government contract, you'll be expected to complete the contracted work for the bid price, so make sure you can complete the construction work profitably.
The federal government provides extensive support for small business owners interested in its contracts. There's a wealth of information available from the SBA, as well as from its mentoring network, SCORE. In addition to online educational information, SCORE offers free mentoring for business owners with one of its 10,000 business experts in 300 chapters across the country. If your mentor has experience with government contracting, they can walk you through the process.
Are You Ready for a Government Contract?
Because the U.S. government often contracts for long-term, ongoing or consecutive projects, you may need more resources to fulfill your end of the deal. For instance, you may need to assess your staffing needs or invest in updated technology or equipment to complete the project effectively.
Before bidding on government construction contracts, take time to assess your current workload and assets. If winning the contract will require you to obtain new equipment, technology or workers, you can add the related costs to your bid. However, you may need to front the costs to begin work on the contract and gradually earn back reimbursement; that may be a hit your budget wasn't expecting. Construction business loans may be available to get you the resources you need, like the working capital necessary to bring on more staff. Plus, having a government contract in hand may make your business more attractive to a lender. Construction equipment financing is another option if you need to purchase or lease new tools to tap into a new type of work.
Understanding how to win government contracts for your small business can represent an important growth step for your company. If government contract work pays for you to add staff, equipment and other resources, your construction company will be even better prepared to compete for future customer projects.
All told, applying for government construction contracts takes time and effort, and they aren't for every company. If you're still mastering the basics, there's no shame in putting off government work. But if you're ready for a new pipeline of projects, they could be exactly what you need to fuel your company's growth. Just be sure to assess your needs and make sure you're ready for the challenge.