Every business owner takes a leap of faith, but agricultural business owners need an extra dose. Not only must you rely on hard work and dedicated employees to build your business, but you also need ample acreage with fertile soil and the right amount of sun and rain. Whether you raise cattle, grow fruits, vegetables, timber or crops, or run another type of agricultural business, figuring out how to get a loan on agricultural land or other essential agricultural equipment is likely to be an important part of your growth strategy.
Why an Agribusiness Loan Can Help
What would it take to grow your agricultural business? Whatever your answer, you can finance it with an agribusiness loan. Though many agricultural business owners seek a loan on agricultural land, business loans can be used for a wide variety of needs. They can provide funds to solve a short-term cash flow challenge or help you invest in a plan for long-term growth. They can also be used as farm equipment loans to help you purchase the equipment you need to plant, harvest, build or undertake other agribusiness tasks.
It's important to view an agribusiness loan as a tool for improving or expanding your business, rather than simply looking at it as extra money. Here are a few of the most common ways that agricultural business owners use loans to boost their operations:
Improve efficiency. Maybe your ranch needs new equipment to help you work faster, more employees to improve productivity, or extra funds to invest in updating your work processes. Whatever your needs for improving business efficiency, an agricultural business loan can help to offset the cost.
Achieve peace of mind. An agricultural loan allows you to focus on running your business, rather than worrying about how to cover expenses like farm maintenance, operating costs or a harvest gone wrong. Most agricultural business loans are also specifically structured to meet the needs of the agribusiness owner. That means you should be able to access the funds you need when you need them. It also means the repayments of your loan can be structured to match your unique income cycle, which is often seasonal for agricultural business owners.
Expand operations. Growing your agricultural business often means you simply need more acreage, and figuring out how to get a loan on agricultural land can be a crucial step in building your business for the long term. If you want to expand into a new crop without neglecting your current product offerings, you'll need more space to grow. Additional land and products come with the need for more labor; you can use an agriculture loan to hire and train more employees to keep you on track.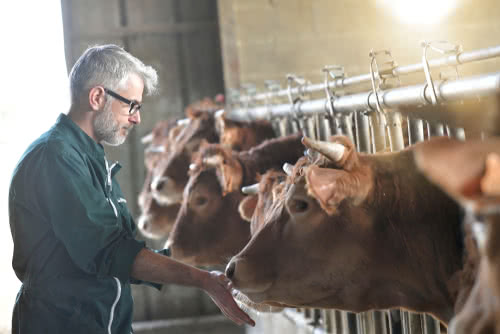 What to Consider in an Agribusiness Loan
When researching how to get a loan on agricultural land or for other agricultural business needs, take time to learn about your various options. Here are several factors you'll need to consider when looking for an agriculture loan.
Approval turnaround. Many agricultural businesses experience seasonal highs and lows in cash flow, and you can't always anticipate which way the wind will blow. Plus, if you have your eye on a plot of land, chances are other farmers do too and you want to scoop it up as fast as you can. For these reasons, it's especially important to look for lenders that offer an easy application process and get back to you within days or weeks, rather than months.
Loan amounts. Perhaps you're only looking for a short-term loan for $10,000 to get you through a dry period. Some lenders require minimum amounts to be borrowed that may be higher than you're looking to commit to right now. Spend some time discussing your specific financing needs with your lender to make sure the loan they offer can meet these needs.
Loan fees. Some loans include attached fees, such as an application fee, an establishment fee or sometimes even monthly or annual fees. Find out upfront about any loan fees to ensure that you understand how much you'll actually be paying.
Loan terms. Any business loan will also have a maximum loan term, which means the amount of time you'll have to pay back the money you've borrowed. It will be helpful to make projections on your agricultural business income for the coming months or years to determine whether you'll be able to repay the loan within the set time frame, especially if you're considering leasing some of your farm equipment over many years.
Repayment options. Some business lenders offer flexible repayment options to meet your business needs. For instance, they may offer you the ability to make interest-only payments for a set period of time or to only make payments during the months of the year when your business traditionally earns revenue, such as during your harvest season. Some lenders may also offer daily repayment plans, which can help reduce the total amount of interest you'll pay.
Bundling options. In some cases, you may be able to bundle various agribusiness loans together into one package, allowing you to save money on fees. For instance, you might be able to combine a loan on agricultural land with an agribusiness line of credit or a farming equipment loan.
How to Apply for an Agribusiness Loan
The first step to figuring out how to get a loan on agricultural land is to determine your specific funding needs, and then research the available options. Because the agricultural field is unique compared to other industries, it is ideal to seek a funding partner that has experience in and knowledge of the agricultural industry.
The application process will vary depending on the type of lender you choose. Traditional lenders often require extensive business documentation, have strict credit score minimums, and may take months to come to a decision. Online lenders that offer small business loans often have simpler application processes, sometimes requiring as little as one year in business and $100,000 in annual sales. Then, the ideal lender will work with you to determine your specific needs, depending on your agricultural business and goals.
With the funding you need from an experienced partner you can trust, there's no limit to the growth your business may experience.