"If it ain't broke, don't fix it." The saying may be age-old advice, but in today's technology-driven world it could stunt your business growth and financial health. Tried and true methods may work and feel comfortable, but adopting new construction technology can help you keep up with an industry that's advancing at a fast pace.
If you haven't updated your technology in a while — or ever — you're not alone. Less than half of engineering and construction executives said they have a clear strategy to integrate construction technology advancements, according to a 2017 survey from KPMG. With so many options, it may be difficult to know what's right for you.
Choosing New Construction Technology
Start by updating technology you already have on hand. For example, smartphones and tablets have been around for a while, but perhaps you leave them in your truck to protect them from damage when you're working. Today, however, devices like Cat smartphones from Caterpillar are made specifically for the construction field. These devices are durable and feature screens that can be viewed in any weather condition. They can be loaded with apps that provide access to documents while on the job site or that track shipment of equipment and materials.
Wearable construction technology is another area to explore; eSUB lists a few examples. Smart devices attach to your team's helmets, vests, boots or glasses to track environmental factors that could be a hazard. They can also monitor health information, such as a worker's vitals in case of an accident. Some wearables have an emergency button that a worker can push if they need immediate help. Supervisors can keep track of team members to keep them safer.
If you're still using a clipboard and pencil for writing down job specs — then trying to keep track of all that paperwork — you might upgrade your administrative system with project management software like CoConstruct. This software allows you to keep track of projects in real time; coordinate schedules; create estimates, budgets and proposals; share files and photos; manage leads; and communicate with clients and trade partners. Only 8 percent of respondents in the KPMG survey said they use real-time project management software, but this one upgrade could save you time and headaches.
Depending on your budget and love of gadgets, you might consider other new construction technology, like drones that can survey difficult job sites, 3D printers to create physical models, and building information modeling software, so you can digitize your construction site. The sky's the limit when it comes to how techy you want to get.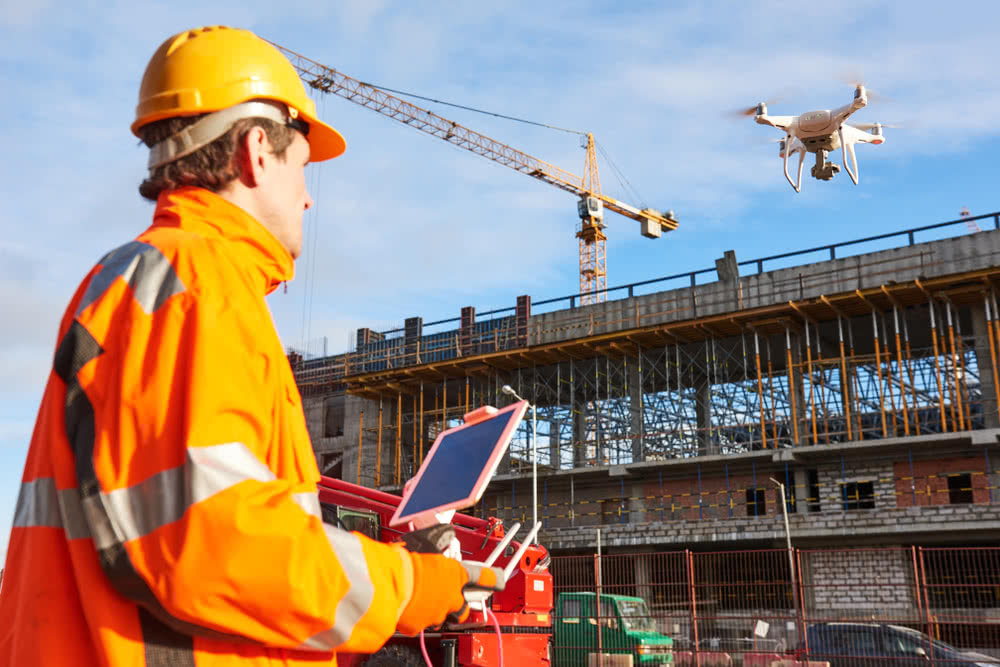 Why the Investment Is Worth It
With so many demands on your resources, any purchase needs to be justified, and acquiring new technology is an investment that offers several benefits. If you've replaced smartphones or tablets due to damage, investing in products that will last can save you money in the long run. Wearable technology is an investment in your team, with the potential to reduce or immediately report onsite accidents. Project management software will help you keep your construction jobs on time and on budget. You can easily communicate priorities to your workers, as well as quickly track estimates, budgets and invoices.
New technology could also help you with your recruiting efforts, especially with younger generations. You could lure this digitally native demographic by arming them with the latest tech.
Moreover, embracing new technology will show your customers that you stay current with the changes in your field. Imagine showing your customer a 3D model of their completed project or being able to update their job on a tablet. Not only will you look professional, but you'll also have the information you need at hand, reducing the potential for mistakes or miscommunication. But understandably, all this potential also comes with a cost. Construction business loans can help you fund some of these worthy investments without dipping into your working capital.
Working in construction allows you to improve lives with the things you build. Adopting new construction technology will improve your life by making things easier. By adopting new tools and devices, you move your company forward — and that's an investment in your team and in your future.