Whether you sell clothing, hardware or groceries, one of the most important pieces of equipment in your store is retail POS software. It enables you to complete the transactions that support you financially, and helps you to build relationships with customers, leaving them with a positive impression of you and your business.
With so many options available, however, you've probably wondered how you can find the best retail POS system. Not all businesses have the same needs. If you sell sporting equipment, for example, you probably don't want a system designed for a restaurant that provides a way to split a check. Too many unnecessary options can clutter the checkout process.
Instead, find the retail POS software that will deliver what you need by searching for the features that are important to you and your customers.
Easy Checkout
Customers like quick and easy checkouts. A slow checkout process could cost you business — 86% of shoppers will leave a store without making a purchase if a line is too long, according to an Adyen study on PR Newswire. The best retail POS software processes transactions quickly using magnetic stripe, chip and contactless payments. They also offer options for receipts based on customer preference, including text, email or paper.
Inventory Management
For retailers, using an inventory management system is a vital part of doing business. You need to keep track of your products so you can reorder items that are getting low or create discounts on inventory that isn't selling. How detailed you need your inventory management system to be will depend on the complexity of your store. For example, if you sell shoes, you will need retail POS software that can keep track of a variety of details within a certain product, such as size, width and color.
In addition, if your business has multiple stores or an e-commerce division, you'll want a system that can keep track of inventory across your locations as well as online, with real-time updates that ensure you don't sell a product you can't deliver.
Bar Code Creation and Scanning
Retailers also need a way to create stock keeping unit (SKU) bar codes for their products, and the best retail POS systems include that capability, as well as a bar code scanner to read them. This equipment helps you log in and track inventory. Bar code scanners also speed up checkout by adding an item to a customer's bill much faster than it takes to key in the information manually. Plus, these scanners read universal product codes (UPC) if your store sells items that are already coded.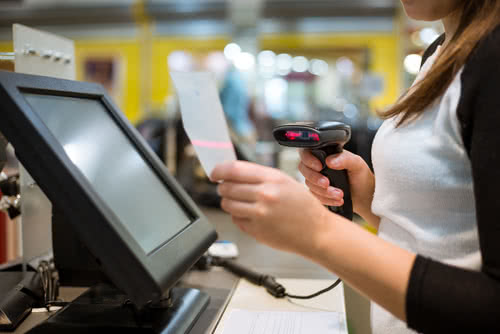 Discounts and Loyalty Program Processing
Offering discounts, such as coupons or sales, can entice shoppers to your store. Your retail POS software should make it easy to create, process and share offers with customers. In addition, a loyalty program can encourage return visits from customers and increase your average sale amount. Many shoppers adjust their spending to maximize their loyalty points. The best retail POS system would integrate this capability into their software or offer it as an add-on feature.
Customer Relationship Management (CRM)
Retailers will also want the ability to track customer purchases. This information helps your sales team provide personalized service and recommendations by reviewing a customer's history. Increasingly, consumers prefer to shop at stores that personalize the customer experience. If you own a garden nursery, for example, it would be helpful to track a customer's previous purchases to better recommend the right lawn care products for them.
Affordable Credit Card Processing Rates
Your retail POS software will process credit card, debit card and mobile payments, and you want to find a system that has affordable payment processing fees. Most retail POS providers charge a percentage of the transaction total plus a flat fee, while others allow you to choose your own merchant account. Determine your average order amount to find a provider that works within your margins.
Cloud Capabilities
Finally, you want to choose a retail POS software that performs updates in the cloud or has a server on-site, so you don't lose a sale if you experience a technical issue. Nothing will frustrate a customer more than not being able to make their purchase because your system is down. Choose POS software that offers the ability to accept transactions offline that can be uploaded at a later date. Also, consider wireless mobile POS devices if you want to process transactions outside of your location, such as at a pop-up shop or community event, or even at a location within your store, like an aisle or dressing room.
5 POS Systems for Retail Business Owners
Now that you know which features to consider, it's time to choose the best retail POS system for you. We've identified the top five systems specifically designed for retailers. They'll cover all of the retail features you need and provide a few more capabilities that can enhance your business.
1. ShopKeep
ShopKeep is an easy-to-use POS system that works on iPads. Its inventory management feature lets you track multiple variants, which will come in handy if you sell items in different sizes or colors. The inventory feature also lets you set levels that automatically reorder items from vendors. If you have multiple stores, you can view all of your locations on a central dashboard.
Other important retail features include the ability to create your own bar codes and SKUs, and charge different tax rates if you have locations in more than one state or city. ShopKeep offers its own payment processor as well as the ability for a merchant to add their own provider to its software.
ShopKeep's analytics provide reporting on sales by hour, department and employee, as well as shift performance. Loyalty programs and marketing can be integrated through third-party vendors.
Pricing (obtained from third-party sources):
POS app: starts at $69 per register per month
Bluetooth credit card reader: $329
Mobile register kit with iPad mini enclosure and magnetic card reader: $198
Basic hardware kit with cash drawer, printer, iPad enclosure and card reader: $809
2. Shopify
If you have an e-commerce element to your retail business, Shopify integrates online and offline sales into one seamless system. Using Apple and Android devices, it offers features such as an ability to create and scan bar codes, sell gift cards, and track customer order history to provide service and recommendations. Product information is updated in real time, so an item that's sold in your store will instantly sync with your online inventory.
Shopify's software also offers retailers a way to sell via social media channels, including Facebook, Twitter and Pinterest. The POS system offers its own payment processor, Shopify Payments, as well as a selection of other processors that are integrated into its system.
Pricing:
POS app: ranges from $9 to $299 per month
Online payment processing fee: ranges from 2.4% to 2.9% plus 30 cents per transaction
Additional fees for using payment providers other than Shopify: ranges from 0.5% to 2%
All-in-one basic mPOP (combined receipt printer and cash drawer): $379
iPad bundle (uses your existing iPad), includes iPad stand, receipt printer, card reader and cash drawer: $656
3. Square for Retail
Square for Retail is a cloud-based system that works on Apple and Android devices. Its inventory management system tracks and adjusts inventory across all of your locations in real time. It provides automatic alerts for low inventory and will send purchase orders to vendors. Plus, you can create an unlimited SKU count.
Square for Retail also includes CRM features, such as customer profiles with credit and debit card transactions, tracking customer purchase history. It can sort customers into groups, such as loyal, casual or lapsed, which can help with a retailer's marketing efforts. Square also comes with built-in payment processing and offers an integrated customer loyalty program as an add-on feature. Square for Retail charges no upfront cost for its magnetic card reader or monthly app fees.
Pricing:
Processing fee: ranges from 2.5% to 2.75% + 10 cents per transaction, depending on the equipment type
Square Reader for contactless and chip cards: $49
Square Stand iPad POS for contactless and chip: $199
Square Terminal all-in-one device including receipt printer: $399
Square Register with customer display: $999
4. Clover Station
Clover Station is another good cloud-based POS system for retailers. It offers the features retailers need, including inventory management, CRM, loyalty programs and analytics. You can set low-stock alerts, create SKUs with variants, and accept payments in offline mode. You can also run promotional campaigns by text or email. Clover Station offers a way for customers to give feedback, so you can engage with them and resolve any issues.
Unlike the other options, Clover Station doesn't require a smart device. It's an all-in-one system that includes a cash drawer, receipt printer and a built-in bar code scanner. This is an advantage if your retail store doesn't currently have a dedicated smart device system. You can process magnetic stripe, chip and contactless payments.
Pricing:
POS app: starts at $14 per month
Payment processing fees: start at 2.3% plus 10 cents per transaction
Complete POS package: starts at $599
5. Lightspeed Retail
Finally, Lightspeed Retail is a good choice for stores with complex inventory to manage, such as a clothing boutique or footwear store. You can keep track of multiple stores, and create, track and assign SKUs by product and product variants. You can also upload vendor catalogs to easily reorder low inventory. Lightspeed Retail's analytics track your best-selling items, your highest performing employees, and your sales and profits over time.
Lightspeed Retail offers a robust CRM, with an ability to create customer profiles. Its loyalty add-on feature lets you create a rewards program as well as automated email marketing campaigns, coupons, and deals for your best customers and other groups.
Pricing:
POS app: $99 per month
Payment processing fees: 2.6% plus 10 cents per transaction
iPad hardware kit with stand, printer, cash drawer, Bluetooth scanner and receipt paper: contact for a quote
How to Afford Retail POS Software
Retail POS software typically requires an upfront cost to get the system in place, plus recurring monthly fees for the app and payment processing based on sales. The initial purchase of your equipment will likely cost hundreds or even thousands of dollars, depending on how many locations and checkout stations you need. Though your immediate needs will depend on your individual business, you might consider a system that lets you add equipment over time and as your budget allows. Some of the providers offer financing on their equipment, but another option is to choose retailer and equipment financing from a third-party lender. If you have additional financing needs, it might be a better option to consider retail business loans as a way to combine everything into one simple payment.
Final Thoughts
Choosing the best retail POS system is an investment in your business that will pay off. The right retail POS software will help you to better run your store by ensuring your inventory levels are maximized for sales success. You can create reports at the touch of a button, providing you with valuable information that can help you make better business decisions.
With the right retail POS software, your customers benefit too. You'll streamline the transaction process so you can quickly serve customers with the checkout options they want most. Plus, you can engage them by using enhanced product information and marketing services, such as loyalty programs.
Finally, equipping your sales team with the best retail POS system turns them into trusted advisers instead of transaction facilitators. Your team will be able to check inventory and product information on the spot, which can make the difference between a sale and a lost customer.
Eighty-six percent of shoppers said they'd pay more for better customer service, something that will differentiate brands more than price and product by 2020, reported Forbes. If you base your decision on your company's greatest needs and goals, the best retail POS system will feel like a partner in the success of your business, rather than another piece of technology.
The recommendations, opinions or views expressed in this article are those of the author, and do not necessarily reflect the recommendations, opinions or views of National Funding.