As a salon or spa owner, your main role is to help your clients look and feel their best, and your business plan should reflect that goal. When is the last time you reviewed or revised yours? Has it been more than a year? Perhaps you didn't create one at all before you launched. Either way, now is the time to update or write a salon business plan so you can avoid potential financial or operational gaps.
Why Is a Business Plan Important?
Your business plan should outline how to run a salon business — but it's not a static document. As your salon evolves over time to address market changes and customer demands, your business plan should also evolve.
In the startup phase, your business plan would be your blueprint, helping you determine the viability of your salon through strategic planning exercises. When you gain clientele and enter the growth phase, your business plan will support your funding and marketing efforts. And as your salon picks up momentum, a well-developed plan can help you acquire the capital needed to expand to new locations.
What Should a Business Plan Include?
A business plan follows a template, like the examples provided by the Small Business Administration (SBA), but there isn't a mandatory outline. Use the sections that make the most sense for your business and needs. Traditional business plans use some combination of these 10 sections:
1. Cover Page
The first page should simply include the name, address and phone number of your salon or spa, as well as the owners' names and contact information. Include your salon logo to make it look professional.
2. Executive Summary
The next section is typically a page long. It provides an overview and synopsis of the business plan, including your mission statement, products and services, leadership team, staff and location. You should also highlight your goals and plans for growth in this section.
3. Company Description
This is where you go into detail about your spa or salon, your services, and the customer solutions you provide. Be specific, including your competitive advantages that help your business stand out. For example, do you have the only salt therapy room in the city? Is one of your owners or staff members a credentialed expert? Or do you have partnerships or contracts that provide you with a steady revenue stream, like affiliations with a local hotel or local television show? You'll also want to share details about your location, including information about parking and traffic. Mention the demographics of the area, and how your salon uniquely serves the local clientele.
4. Market Analysis
Here is your opportunity to explain how you differentiate from your local competition. For example, your salon may offer wine or coffee to your customers while they have their treatments performed. Or you may offer online booking or extended hours on weekends for customer convenience.
5. Organization and Management
This part of the plan details how your business is structured. If you need guidance, the SBA offers multiple examples of different business structures.
You should also include information about each team member, like their unique strengths and experiences, and how they will contribute to the success of your salon. You can include their resumes or bios. Then break down the responsibilities and compensation structure for each person on your staff.
6. Service or Product Line
Describe the services you offer and the products you sell, breaking down each item into costs and profits. Explain the customer benefits your services and products provide. If you have any intellectual property, such as patents, or if you're currently researching or developing an exclusive product line, share details here.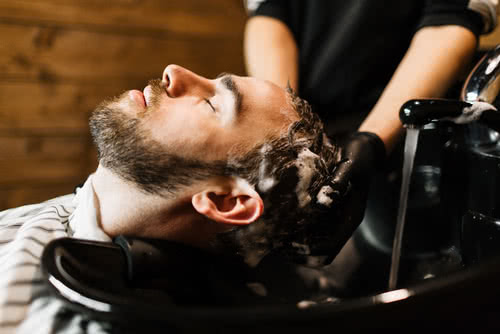 7. Marketing and Sales
This section's goal is to explain how you plan to market and sell your products and services. Share details about your demographic, including age, gender, education level, income and occupation. Explain how you plan to reach your customers, including specific advertising channels and marketing methods that will help you capture your target audience. Outline your sales funnel — how you attract customers, convert interest to sales and retain them. And describe how your salon is positioned in the market. For example, you might cater to bridal parties, children or men.
8. Funding
If you plan to apply for a small business loan, outline your requirements in this section. (If you have an accountant, they can help you.) Explain how much money you need, how you plan to use it, and how you will repay it. For example, you may need funding to add chairs to your salon, and the added revenue potential will provide you with increased profits for repayment. Attach income statements, cash flow statements and balance sheets for the past three years, if available. Though, some lenders may only require proof of income. Graphs and charts can help tell the financial story of your salon in an engaging way. Your goal is to portray your business as successful and stable.
9. Revenue Projections
Whether or not you're asking for funding, you'll want to include a section for financial projections. Include past financial information like your beauty salon expenses and revenue to establish a history. Then share what you expect to earn in revenue over the next three to five years. Justify how you came up with those numbers, including data and research. If you're asking for funding, share how you expect the money to impact future sales.
10. Appendix
Finally, your plan can include an appendix where you can share supporting materials. Common documents to include are your credit history, product sheets and pictures, licenses, permits, contracts and letters of reference. The appendix is optional, but it's a good place to bolster your plan with helpful information.
Putting Your Plan Into Motion
A well-written salon business plan is your secret for success. In fact, 16% of entrepreneurs who write a business plan are more likely to create a viable business, according to Harvard Business Review.
Review your plan often, such as every month or quarter. And give it a makeover each year, setting new goals and celebrating those you've achieved. By regularly updating your salon business plan you can stay relevant in the market. Your customers want a salon that continues to present a fresh face to the neighborhood, and a solid business plan is key to knowing how to run a salon business that accomplishes that important task.