Manufacturing Equipment Financing & Leasing
Manufacturing equipment loans make it easy to get the machinery you need.
Ready To Move Your Business Forward?
By continuing I agree to all 
New Equipment Today. Full Write-off This Year.
Finance new or used equipment before December 31st to use
Section 179
for a 100% tax deduction.
Learn More
How Manufacturing Equipment Financing Can Work for You
Replacing worn-out manufacturing equipment can come with a high price tag. You can upgrade or replace the machinery your business needs and keep cash available for your other business expenses with manufacturing equipment loans. This financing solution for expensive machines and equipment gives you the option of buying the equipment or setting up an equipment lease. Both purchase and leasing options are available for new or pre-owned equipment so you can find the best machines for your business.
Replace Old Equipment
Fix equipment that's beyond repair by replacing it, without having to deplete your cash reserves
Upgrade to the latest technology so your business stays competitive
Benefits of Equipment Leasing
Options for buying equipment at the end of lease or renewing lease
Let the lease expire and enjoy not having to deal with well-used equipment
Potential Tax Savings
Use the Section 179 tax deduction to deduct the full cost of equipment from your taxes in the same year
Financing manufacturing equipment allows you to stretch your business tax savings further
Benefits of Equipment Financing Loans
Divide the high cost of new equipment into easy payments over time
Save even more by financing the purchase of used equipment
Manufacturing Equipment Financing Details
Using your business' hard-earned cash to purchase equipment and tools isn't necessarily the best decision. If you have financing options like leasing or loans available you can get the equipment you need while maintaining cash flow. Additionally, if you decide financing manufacturing equipment is right for you, your business could potentially save thousands with special tax benefits.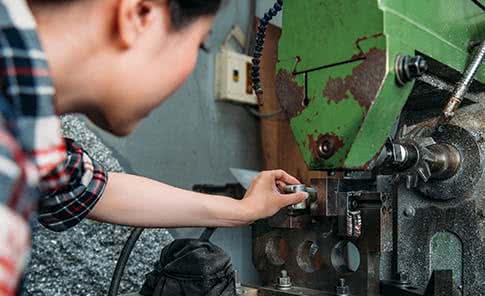 Qualifications for Equipment Financing and Leasing
6 months
in business
Fair to
Excellent Credit
Equipment quote
from a vendor
How to Apply
Applying for manufacturing equipment financing is easy. Simply fill out our quick and easy online application and one of our friendly Funding Specialists will contact you to learn more about your business. Your Funding Specialist can help you decide which financing option is a good fit for your business and circumstances.

Why National Funding?
National Funding has the manufacturing equipment leasing and financing options you need to get the latest machines for your business. We offer friendly, customized financing options that are tailored to your business needs and budget.
We Know Manufacturing Businesses
Experience supporting manufacturing business owners.
Trusted by Businesses Like Yours
Over $4.5 billion in funding to more than 75,000 businesses nationwide
Personalized Experience
Lending solutions and payment options tailored to your specific needs
Fast & Easy Application Process
No-cost, no-obligation application with funding in as few as 24 hours1
Funding Specialists Who Care
Experienced Funding Specialists help you make the right decision
Worry-Free Lending
No collateral requirements, plus simple, automatic payments3
Ratings & Reviews
We are very proud of what our customers are saying on TrustPilot.
Excellent
Based on 1,586 Reviews
May 03
Extremely professional 5 star service
Extremely profesional 5 star service The executive Darren Aliff Super professional and very kind. Good job!!
Eduardo Torbay
Apr 27
Awesome funding source
Awesome funding source. Prompt, courteous and very reasonable rate. We will be using your services again.
Anita Loyd
Feb 21
Darren Aliff made our process very easy
Darren Aliff made our process very easy & smooth. We went over everything & the company gave us the best terms.
Yami Cabrera
Jan 25
Absolutely the best service
Absolutely the best service. Ashley Witte was amazing and we see ourselves returning to use her services when we expand.
CoffeeLab Evanston