As a farmer, you're likely juggling a variety of tasks day in and day out. Whether you're prepping a field for a new crop, repairing a tired tractor, or taking care of paperwork, you're working from sunup to sundown. Agriculture apps for farm owners can help to lighten the load.
Just in time for National Ag Day on March 14, we've put together a list of the best apps for farm and agribusiness owners like you to streamline your operations, modernize your management process, and get a handle on all that data. Today's app lineup is making it easier for farm owners to manage their land, track industry news, stay on top of weather and crop schedules, and engage with buyers and suppliers all within one single interface.
Here are five of the best agricultural apps for farmers that should be on your radar this year and beyond.
Agrellus: Get the Best Deal on Inputs
Agriculture apps for smartphones can help you quickly find the products you need to run your farm operation — and get the best price. Take Agrellus, for example. It's an online marketplace that brings together growers and product dealers. The app lets you easily search for seeds, fuel additives, irrigation parts, chemicals, fertilizer and other key inputs that are needed to keep your farm running smoothly. In just a few clicks, you can select the custom inputs you need, specify your delivery location and date, and receive quotes from a range of suppliers. You can then choose the quote that meets your needs, process payment through a variety of methods, and set up delivery.
It's free for farmers to join and use. Just create an account at the Agrellus website, and then download the app for iOS or Android to get started.
TractorPal: Track Equipment Maintenance
TractorPal makes it easy to monitor equipment status, maintenance and more. And despite the name, it's not just limited to tractors; you can use the app to better manage any vehicle in your fleet. With the inventory feature, you can enter your equipment details, including serial numbers, purchase costs, mileage, year, brand and even an image of the vehicle. The maintenance feature lets you outline the recommended maintenance schedule, keep a record of your oil changes, and even track specific equipment parts. By centralizing this information, it's possible to stay on top of maintenance or have a relevant reference point on hand if you need to upgrade your farm equipment.
Users can install the app on Android or iOS devices, and a free trial lets you try out the features for one tractor. A yearly $11.99 subscription allows you to track unlimited equipment.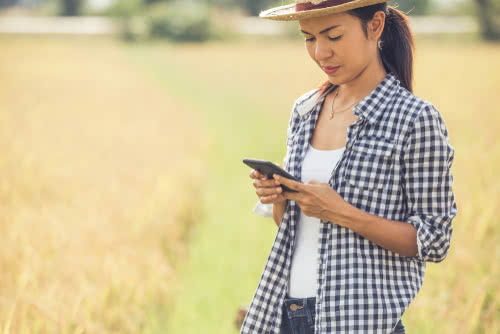 Farm at Hand: Simplify Farm Management
Farm at Hand makes farm management easier by allowing you to keep all of your farm information in one place. You can see all of your data at a glance and make faster decisions when needed. The app offers three levels of features: standard, premium and agronomy (which targets agronomists). With the standard version, you can track what's happening in each of your fields; manage your inventory, equipment and maintenance; and even store your sales and delivery contracts. You can also preplan your next season over winter, so you're ready to roll when your peak season hits. The premium version lets you dig even deeper into crop-planning support, and also includes features for revenue and cost tracking and sales management. The agronomy level helps agronomists work more efficiently with their customers.
The app was developed by a Canadian firm, and standard access is $120 CAD per year (roughly $92 USD) and premium access is $500 CAD per year (roughly $382 USD). The app is available for both iOS and Android devices.
Growers Edge: Stay Connected
Growers Edge helps farmers stay up to date on farm industry news and the latest prices. You can find the best prices on commodities you're selling and get notifications of changing prices on the go — so you don't miss out on a good time to sell. You can view local prices, as well as net hauling and storage costs. You can also store your favorites so you don't have to search anew every time you enter the app.
You can also track weather conditions and compare them to previous seasons, read expert commentary and farm industry news, and manage your on-farm storage. With all of this data in a single app, it's easier to make smarter farming decisions and grow your profits.
This free app is available for both iOS and Android devices.
Agworld: Manage Your Crops
Agworld helps to take the mystery out of managing crops. The app covers the entire business cycle for farmers who grow crops, from preplanning and growing season management to supporting long-term profits. You can plan which row crops will be planted in selected fields, share data with your advisers for expert input, and create work orders that help farmworkers focus on the right tasks. During the growing season, the app helps you do everything from tracking spray records to providing advice on managing costs against projected profits.
Agworld is available for computer-based use and for iOS devices. The subscription costs begin at $1,495 annually and scales up from there depending on the size of your operation and the features you need.
From Growers Edge to Agworld, the cost of these agriculture apps can vary. If you're facing a cash flow crunch, you may have to decide if the technological leg up is worth the investment. Farm business loans can be an option if you're looking for ways to increase efficiency, modernize your operation, or even bring on more staff without tying up your working capital.
Agriculture apps for smartphones make it easy to conduct farm business online and take your farm management from analog to digital. Whether it's keeping a close eye on your fields, determining the right time to finance new farm equipment or getting the best prices on the inputs you purchase, your smartphone or tablet can be a powerful tool for managing your farm.