You'll need more than a green thumb to know how to run a landscaping business. Whether you want to offer basic garden and lawn maintenance (such as mowing, weeding and trimming), comprehensive landscaping services (including things like plant and tree installation, seasonal mulch and sprinkler installation) or full landscape architect services, you'll need a plan to carry you to success.
A strong business strategy can help you get there. Landscaping is a $99 billion industry, according to IBISWorld, and sector demand is increasing, driven by a rebounding economy and a focus on home improvement. In fact, the market is estimated to grow at a compound annual growth rate of 4.5% by 2025, according to the United States Landscaping Market Growth, Trends and Forecast report from Research and Markets.
To get ahead in a growing industry, follow these five important steps.
1. Create a Plan
Before you start your business, you need to write a business plan, which essentially serves as a plan for how to start a landscaping business. As businesses grow, they get more complex. A business plan helps you take the right steps by outlining your strategy. The idea is to chart out how you plan to run your operation, grow your clientele and handle your finances over the next three to five years.
You'll also need to decide how to structure your business, whether as a sole proprietorship, an LLC, a partnership or a corporation. And you'll need insurance to protect your employees and your customers' property. Consult with a banking or legal professional for guidance on organizing your operation.
You can use a template to write your business plan; the Small Business Administration has several examples.
2. Purchase the Right Equipment
Running a landscaping business requires the right equipment and tools, which can be a substantial investment. Items you might not use every day, such backhoes, can be rented. But you'll need to own everyday equipment, such as commercial-grade lawnmowers and leaf blowers. If you don't have the cash to pay for these pieces of equipment upfront, consider getting a small business loan or an equipment financing loan.
Buying inexpensive used equipment might seem like a good deal, but having dependable tools is critical to your success in the landscaping business. Any time you spend repairing or replacing equipment or renting temporary equipment is time you could have spent working landscaping jobs.
3. Price Your Services
Pricing your services requires a lot of consideration, as you need to make sure that you're charging enough to cover your expenses.
Start by making a list of your expenses and costs, including how much you pay your staff, the cost of equipment and supplies, loan payments, rent, marketing, and insurance. Then find out what your competitors are charging for jobs. You don't want to be the most expensive service, especially if you're just starting out, but you don't want to undercut your competition just to get jobs, either, as that hurts the market and makes it hard for you to grow your business.
Instead, set your prices somewhere in the middle. A good rule of thumb is to charge a basic rate by the square footage of the lot and adjust from there for any instance that could make a job longer or harder, such as a remote location or an area with a steep grade.
Review your pricing every year to account for increases in the prices of supplies or raises you give to your employees. If your profit margins are too low, raise your prices. Start charging new customers the higher rate immediately, and notify existing customers at the beginning of the next season or at the end of their contract.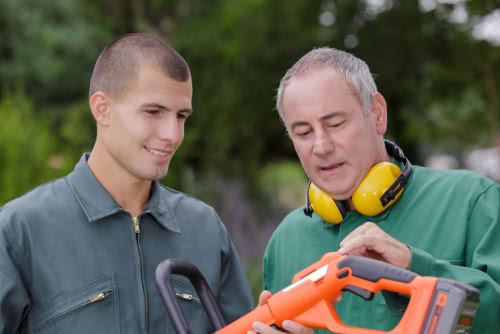 4. Hire and Manage Employees
Skilled laborers can sometimes be hard to find, so hiring and retaining good employees is vital to running a landscaping business. Your existing team can generate some of the best leads for new employees. An employee referral program that rewards employees for bringing in new hires can help you bolster your team and incentivize your existing employees.
Recruiting and training new employees takes time and money that's better spent working, so take care of your team members by paying them competitive rates and paying them on time, treating them fairly, and providing opportunities for advancement. Remember: There's a shortage of talented workers in the landscaping business; if you don't treat your employees well, they'll find opportunities somewhere else.
5. Market Your Business
Knowing how to run a landscaping business also means knowing how to make customers aware of it. An initial marketing strategy should be part of your business plan, but you'll still need to spread the word about your business by creating a marketing plan. Tailor your message to the type of customer you hope to attract. If you're looking to attract busy professionals who don't have time to care for their yards, for example, you'd want to stress the convenience of your service.
Traditional offline strategies are still highly effective marketing tactics in the landscaping business. Use branding on your trucks. Provide your team members with branded shirts and outerwear. You could also look into taking out an ad in a local publication or posting flyers in neighborhoods. Recommendations and referrals can also be an effective way to grow your business. Ask your customers to share your business with their friends. You could set up a referral program and offer a free service to an existing customer if they send a new one your way.
Pay attention to your online presence, too. Set up profiles for your business on social media platforms and on review sites such as Yelp and Angie's List. According to Invesp, 90% of consumers read online reviews before visiting a business, and 88% trust online reviews as much as they trust personal recommendations.
How to Start a Landscaping Business
Starting a landscaping business isn't too different from starting most other types of businesses. Provide a great product or service, offer excellent customer service and build a team that supports your goals. Having a good work ethic and a drive to succeed will help keep you going while you learn how to run a landscaping business. Just like the lawns and gardens you'll plant and maintain, your business can grow if you take the time to nurture it.