Equipment Leasing - Lowest Payment Guarantee | National Funding
New and Pre-owned Equipment Leases with No Down Payments or Collateral Required
National Funding offers both new and pre-owned equipment leases with no down payments or collateral required. There are few limitations on the types of equipment you can obtain, and you can get the materials and machinery you need quickly and easily. No matter your business' specialty, National Funding can help. We offer equipment leases across a wide range of industries, including construction, trucking, restaurants, offices, landscaping, medical, dental, manufacturing, IT, agriculture, salons, gyms and more.
The Lowest Lease Payments — Guaranteed!
It's been said that the only things guaranteed in life are "Death" and "Taxes." Well, now you can add another one to the list… National Funding's Guaranteed Lowest Payment.* And unlike death or taxes, this one is in your favor.
It is our goal to be your exclusive source for equipment leasing by offering the guaranteed lowest payment and the best customer service in the industry. If we're willing to back every one of our equipment leases with a $1,000 guaranteed lowest payment, you can bet it will be difficult for you to find a lower lease payment rate.
You can rest assured that when you decide to lease equipment for your small business with National Funding, you are GUARANTEED the absolute lowest lease payment or we'll pay you $1,000 cash.* *Reasonable restrictions apply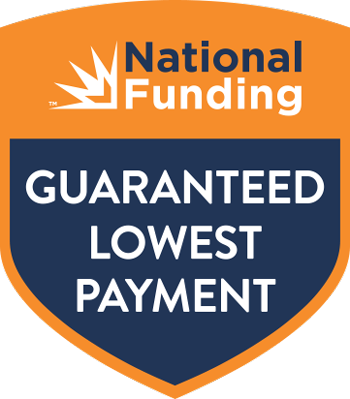 Serving America's Businesses for Nearly 20 Years
Many small business owners have discovered the benefits of equipment leasing. The cost savings provided by financing equipment instead of purchasing it mean greater security and flexibility for businesses, as much needed cash reserves aren't depleted from buying equipment outright. Additionally, the special tax breaks business owners can claim by financing equipment offer yet another reason to explore this option.
However, it's important to work with an equipment leasing company that understands the unique needs of your enterprise. Fortunately, at National Funding, we know what it takes to get small businesses performing at their full potential.
Ratings & Reviews
We are very proud of what our customers are saying on TrustPilot.
Excellent
Based on 1,752 Reviews
Jul 19
As far as bridge financing goes...
As far as bridge financing goes these guys are about as good as it's going to get we paid it off early and got a 10% discount on the balance
Randy Shoemaker
May 28
Eric Fong did an amazing job
I will definitely recommend any small business needing one form of funding or the other to check National Funding out.
Sam A.
Jun 06
Hats off to the team that helped me…
Hats off to the team that helped me with some business lending. They made the process super easy for both working capital and equipment loans.
Hallie Beilig
Jun 15
Great experience
Great experience, easy funding, paid next day! Smooth & straightforward process! Still lowest offered than any other lenders.
RAPTOR ACCOUNTING