Small Business Loans & Financing in Houston, Texas
Secure the financing you need with small business funding in Houston
Business Loans in Houston Give Your Business an Edge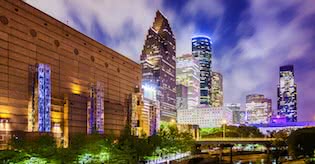 "As the fastest growing metro area from 2010-2017, Houston is ripe for growing businesses."
Equipment Leasing and Small Business Loans in Houston
Secure financing for new business equipment like heavy machinery or computer servers, or use a business loan to cover your expansion efforts.
Small Business Funding
Need cash for inventory, payroll, or taxes?
Get from $5,000 to $400,000 in business cash.
Use the cash for any business purpose
Flexible terms with no early repayment penalty
Funds sent to your account within hours
Equipment Financing
Looking to purchase or lease equipment?
Finance new or used equipment up to $150,000.
Financing up to 100% of business equipment cost
No upfront fees or down payment required
Ability to use Section 179 Tax Deduction*
*Consult your tax advisor
A Variety of Financing Support and Solutions for Houston Business Owners
National Funding's competitive business loan rates for Houston business owners take the stress out of finding funding. Get a customized business loan tailored to the needs of your business.
We've Got a Financing Solution That's Right for Your Business
Getting the funds you need for operating expenses or planned expansion can be daunting. That's why we've developed financing options that can be tailored to the needs of your Houston business.
Step 1
Get Approved
No waiting, no delays.
Get approved within 24 hours.
Step 1
Do You Qualify
6 Months in Business
$250,000 in Annual Gross Sales
3 Months' Bank Statements
Step 2
Get a Solution
Review financing options with your dedicated National Funding Specialist.
Step 2
Personalized Solutions
Learn how easy it is to work with us, and how hard we work for you.
Step 3
Get Cash
The money you need is deposited in your checking account — quickly and easily.
Step 3
Contact Us
What can we do for your business?

Apply online or give us a call at 888-733-2383.
Ratings & Reviews
Our focus on customer service has allowed us to find financing solutions for Houston area business owners just like you.
Excellent
Based on 1,683 Reviews
May 03
Extremely professional 5 star service
Extremely profesional 5 star service The executive Darren Aliff Super professional and very kind. Good job!!
Eduardo Torbay
Apr 27
Awesome funding source
Awesome funding source. Prompt, courteous and very reasonable rate. We will be using your services again.
Anita Loyd
Feb 21
Darren Aliff made our process very easy
Darren Aliff made our process very easy & smooth. We went over everything & the company gave us the best terms.
Yami Cabrera
Jan 25
Absolutely the best service
Absolutely the best service. Ashley Witte was amazing and we see ourselves returning to use her services when we expand.
CoffeeLab Evanston
How We Compare to Other Financing Solutions
We aim to make finding small business loans in Houston easier than ever with an online application and dedicated Funding Specialist. After approval, you'll get your business loan funded fast so you can start taking advantage of the growing Houston market.