Small Business Loans & Financing in California
Thrive in the golden state with small business funding in California
Move Your Business Forward with the Help of Business Loans in California
With the largest population in the nation, California is full of opportunities for business owners. From bustling cities to smaller communities across the state, running a business in California can be a profitable choice. However, with a larger population comes more competition, which can cause the cost of doing business to rise. Securing small business funding in California can help you stand out from your competition and take advantage of growth opportunities. Looking for business lenders in your city? Look no further as National Funding offers business loans in Los Angeles, San Jose, San Diego, and San Francisco.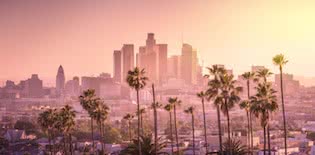 "With the largest population in the nation, California is full of opportunities for business owners."
Equipment Leasing and Small Business Loans in California
Whether you're looking to cover immediate expenses for your business or need to replace outdated equipment, we have the loans and equipment financing you need.
Small Business Funding
Need cash for inventory, payroll, or taxes?
Get from $5,000 to $500,000 in business cash.
Use the cash for any business purpose
Flexible terms with no early repayment penalty
Funds sent to your account within hours
Equipment Financing
Looking to purchase or lease equipment?
Finance new or used equipment up to $150,000.
Financing up to 100% of business equipment cost
No upfront fees or down payment required
Ability to use Section 179 Tax Deduction*
*Consult your tax advisor
A Variety of Financing Support and Solutions for California Businesses
Running a business in California can be rewarding, but it isn't always easy. We understand that different businesses are searching for different solutions for sustainability. With flexible payment options for California businesses, we can help you find the right financing solution to reach your business goals.
We've Got a Financing Solution That's Right for Your Business
No matter if you run your California business in a large city or small town, we understand the importance of securing small business funding in California. Let our Funding Specialists walk you through the different financing options available to you. We'll work with you to create a financing solution that's right for your business goals and needs.
Step 1
Get Approved
No waiting, no delays.
Get approved within 24 hours.
Step 1
Do You Qualify
6 Months in Business
$250,000 in Annual Gross Sales
3 Months' Bank Statements
Step 2
Get a Solution
Review financing options with your dedicated National Funding Specialist.
Step 2
Personalized Solutions
Learn how easy it is to work with us, and how hard we work for you.
Step 3
Get Cash
The money you need is deposited in your checking account — quickly and easily.
Step 3
Contact Us
What can we do for your business?

Apply online or give us a call at 888-733-2383.
Ratings & Reviews
For 20 years, business owners in California have trusted National Funding with their business financing needs.
Excellent
Based on 1,730 Reviews
Jul 19
As far as bridge financing goes...
As far as bridge financing goes these guys are about as good as it's going to get we paid it off early and got a 10% discount on the balance
Randy Shoemaker
May 28
Eric Fong did an amazing job
I will definitely recommend any small business needing one form of funding or the other to check National Funding out.
Sam A.
Jun 06
Hats off to the team that helped me…
Hats off to the team that helped me with some business lending. They made the process super easy for both working capital and equipment loans.
Hallie Beilig
Jun 15
Great experience
Great experience, easy funding, paid next day! Smooth & straightforward process! Still lowest offered than any other lenders.
RAPTOR ACCOUNTING
How We Compare to Other Financing Solutions
At National Funding, we know you might need a fast financing solution for your California business. Whether you have invoices that are due or need to pay your employees, our quick loan application and decision process allows you to get back to the work of running your business. We can help you look at available business loan rates in California to find the right financing solution for your business.